Active vs RaceID – Which Race Registration Solution Should you Choose?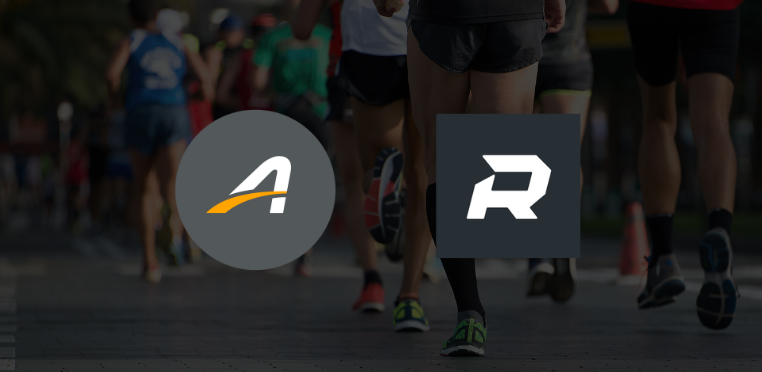 If you came across this article, chances are that you are considering changing registration tools for your race, or perhaps looking for a service to use for your new event. We are here to help you make the right choice. Even though we do offer our own Event Management & Registration Service, we want you to find the solution that fits your race the best. That includes helping you navigate the (sometimes confusing and fragmented) market and offering all the options available. 
Active is one of the largest and oldest registration companies on the international market – let's get into how this EMS tool compares to RaceID. We will look at the categories features & interface of the EMS, pricing, support, and the participant experience. 
About Active
Active Endurance, Active.com or Active Network is probably the largest global player when it comes to endurance race management. They offer a full-service registration tool for organizers while also providing various apps and tools for participants to find races. Active also offers possibilities to manage other events like galas, conferences and camps. 
About RaceID 
RaceID is a new company on the market that focuses on creating outstanding participant experiences while offering a modern and easy-to-use EMS system for organizers. Manage all your needs related to your race and participant data, increase revenue with smart tools and extras and impress your participants with a superior digital experience.  
Features Comparison – Active vs RaceID
Active offers a myriad of features, in three different plan levels. You can see an overview of them below: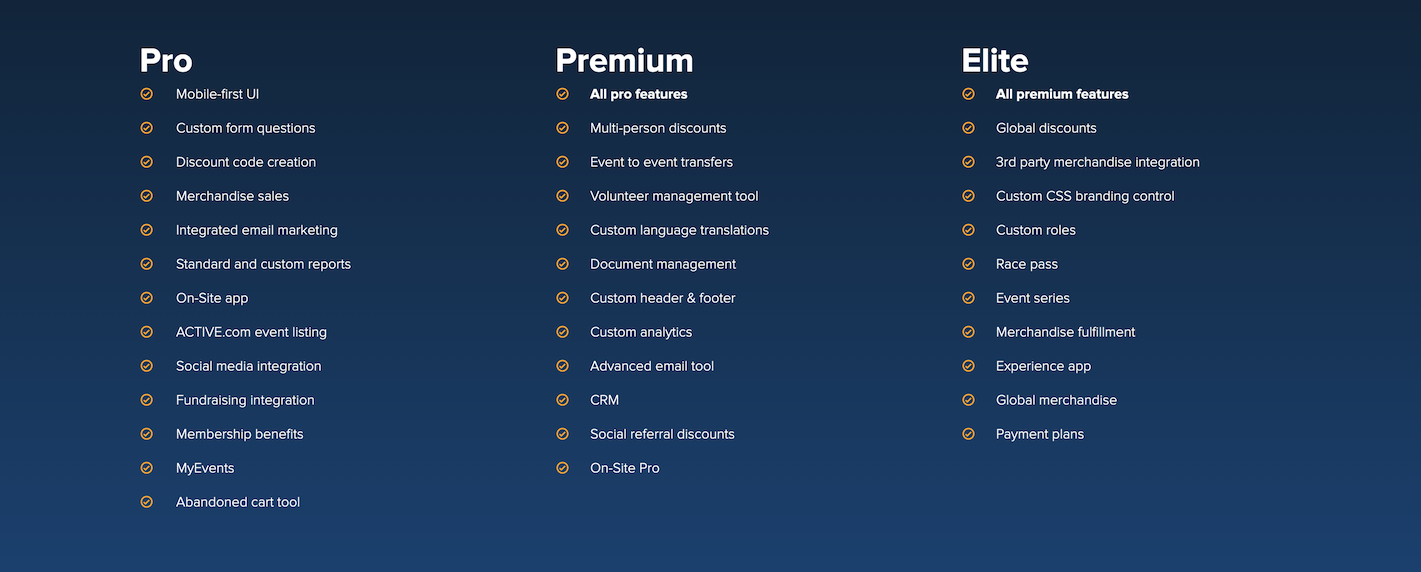 In comparison you can see an overview of RaceID Features here: https://raceid.com/organizer/features-pricing/ 
Both Active and RaceID offer the essential features needed to operate an event, such as registration with custom questions, coupon codes, team registration, participant self services, reporting, merchandise sales and responsive (mobile adapted) registration forms. Both RaceID and Active have a participant calendar where you get featured as a customer to help you with marketing exposure and getting new participants. 
Features that Active offers in their packages and RaceID doesn't are the following: 
Fundraising integration (attach a separate fundraising collection for a cause) 

Race Day App for organizers 

Abandoned cart tool 

Volunteer management tool (*Premium)

Multi/person discounts (*Premium)

Social referral discounts (*Premium)

3rd party merchandise integration (*Elite)

Custom CSS branding control (*Elite)

Custom Roles (*Elite)

Race Pass (*Elite)

Event Series (*Elite)
On the other hand, all RaceID features are included in all packages. If we are comparing each company's standard or most basic package, you would get more features included with RaceID, such as:

Participant App with ability to send push notifications etc. 

Language translations 

Global discount codes for events 
In addition, RaceID offers a timing app connected to the system, something you cannot get with Active. If you are a smaller race, less than 300 participants, you should consider this timing method as it can save you a lot of costs on timing equipment. 
For the advanced features described above, you usually have to upgrade to one of the more expensive packages with Active. 
All in all, unsurprisingly, Active clearly has more total features available than RaceID. You would have to sit down and see which of the features matters to you and compare what you would get the most value out of. A pricing comparison is next!
Price Comparison – Active vs RaceID
Standard Pricing Active: $0.99 + 2.9% + transaction fees for each registration 
Standard Pricing RaceID: $.0.5 + 5% for each registration 
In the RaceID pricing, card and payment processing fees are included. For Active, this is not included and those transaction charges are not specified. From our knowledge, when someone pays with a credit card, those fees are usually 2.5-3% of the transaction value. Hence, to compare total pricing, this comparison gives you a more realistic picture of what you would pay per transaction: 
Active: $0.99 + 5.9% 
RaceID: $.0.5 + 5%
Lets apply this to a race with 500 participants and a $50 registration fee, this is the total cost: 
Active fees: $1970 ($3.94 per participant)
RaceID fees: $1500 ($3 per participant) 
Difference: $470
Interface and Ease of Use Comparison – Active vs RaceID
In terms of ease of use, we tested the Active tool by creating an account and logging in as an organizer. It took us a number of attempts to get into the system which was slightly disturbing. When inside, you are greeted and guided to create your first event. The user interface is simple and straightforward, although slightly overwhelming with a view of all the available settings that you have to fill out to get to the next step: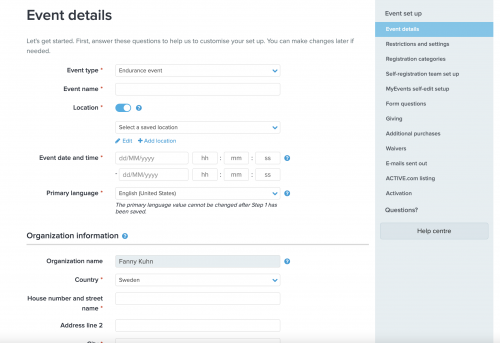 All in all, it is a robust tool and we did not encounter any more difficulties. 
The RaceID Admin has a different look to it (you're the judge of whether that is better or worse!), and you can log in with simply an email address and password as a first step. You can then test every piece of the system without having to fill out detailed information such as bank details.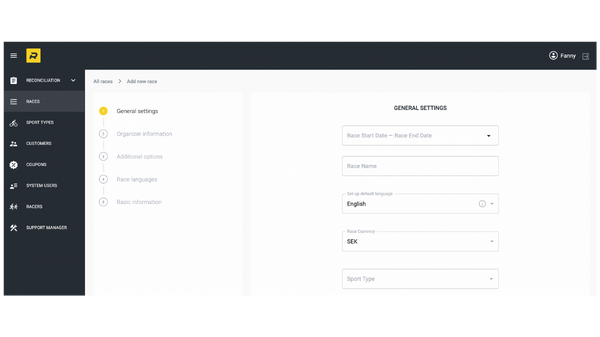 To be honest, RaceID still lacks an optimized onboarding process where you get guided through the first steps (working on that!) but we would like to think that the system is quite intuitive for most people, and you can get an event set up in about 5 minutes. If you get stuck, you can of course search in the Knowledge Base and as a last resort always jump on a call with customer success and we will help you out!
Customer Support – Active vs RaceID
Active is a self-serve system if you are using the basic package. Hence, you will have to look for answers yourself in their knowledge base. If you are upgrading to one of the higher tiers or is a very large race, personal support can be available to you. It is logical that Active has a standardized and corporate support solution as they are a large company in comparison to RaceID. 
With RaceID, you get a personal touch. We are a small team of endurance athletes and we have personal contact with each one of our organizers. If you want additional and ongoing support, we do charge an annual fee for that – but we are always ready to answer any concerns you may have and assist you with your race set up. 
Participant Experience – Active vs RaceID
What really matters is how you take care of your participants, right? That's at least our philosophy at RaceID. We invest a lot of our time and effort to make sure participants have the best digital experience as possible. Their race journey starts when they interact through your website, your registration flow and your communication. 
To enhance this experience, participants at RaceID have access to download the RaceID App where they can register, connect with the community, be inspired and also stay connected to you and your race organization through messages and push notifications. You choose which information and race updates to share. 
Active also offers a similar app called the Active Experience, where participants can get an enhanced experience before, during and after race day. 
You can download and compare the two apps (iOS) right here: 
Active Experience on iOS
Active Experience on Android
RaceID Participant App on iOS
RaceID Participant App on Android
In terms of what the registration looks like, here is a comparison of the form interface participants experience for each company respectively: 
Active Registration on Desktop: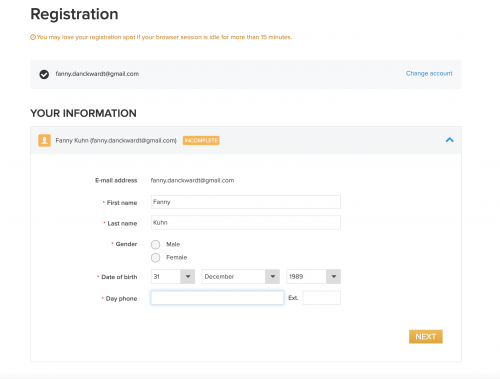 RaceID Registration on Desktop: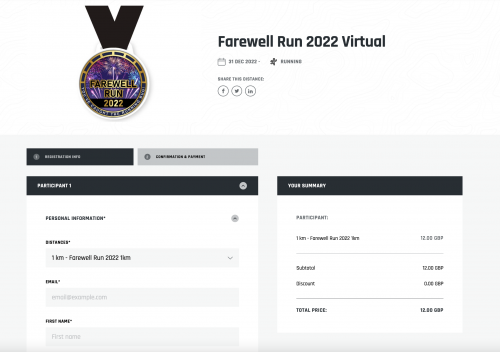 Active Registration on Mobile: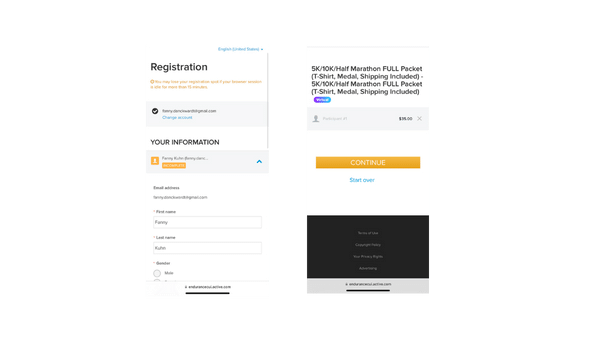 RaceID Registration on Mobile: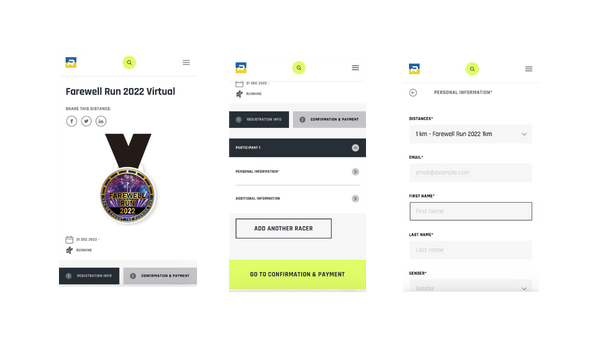 Summary: Should you choose RaceID or Active? 
The answer is: it depends. You should think about what type of race you manage, which features are important to you and what your goals are. 
If you are a smaller race and want to save on every cost possible, RaceID is the cheaper option for you. While RaceID offers less features, there are also outstanding ones such as the timing app and the participant experience. You might want to take these into consideration when you choose, no matter the size of your race. 
If you are a large race series and are looking for a robust system with series management, fundraising, and possibility to change colors and the look of your registration page to exactly match your branding profile, then Active is a better choice for you. Note that you will also have to pay the premium for these features as they are part of the upgraded plans. 
All in all, both Active and RaceID are good EMS systems for races and you will succeed with whichever choice you make – it is always up to you anyway how you present and execute the experience for your participants. Keep in mind also, when you choose: would you rather work with a small and passionate team, in constant development, like RaceID – or you prefer the larger, more established but less personal relationship with a company like Active? 
Best of luck! If you want more choices, don't forget to check out our big comparison of registration tools on the market. 
Already thinking that RaceID is right for you? Get started now!