Registering to an event can be seen as a risk for many participants. WIll I be in good enough shape? What if I get injured? What if I get sick on race day?
When a participant is about to hit "Sign up", you want them to feel secure and excited, right? Here is where Refundable Booking comes in handy.
SECURITY FOR
YOUR RACERS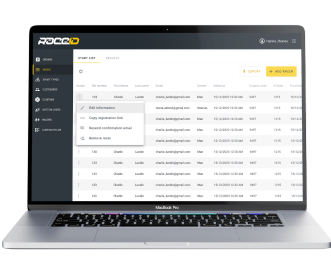 SECURITY FOR
YOUR RACERS
Once you have collected all your participant data, you can connect it to your choice of timekeeping system. Rfid equipment is heavy, and a hassle to move around, so it is usually better for both your wallet and the environment to keep these services local.
It is easy to export data from the RaceID admin system, and you can import it or send it to your timing provider. We also support automatic data transfer via API connection to several of the popular rfid chip timing providers. That means you don't have to worry about anything - RaceID and the timing company take care of everything
Let your participants sign up without doubts. With Refundable Booking, your athletes can book early without any worries, and you can fill your event earlier in the season.
Refundable Booking covers:
Injury
Illness
Extra Covd-19 protection
Give yourself peace of mind and avoid dealing with refunds
RaceID and our partner Refund Protect take care of all the set-up, payments, and claim handling for the insurance. You do your event, and we handle the administration.
Offer security to your participants & convert more registrations earlier.
20-50% of participants add Refundable Booking
Especially these times, while we recover from the pandemic, we need security. Especially so when we book tickets or register to events with hundreds or thousands of people attending. Make sure you activate Refundable Booking for your event today!
Want to set up a race with
Refundable Booking on RaceID?
It cannot be smoother: just log into RaceID
Timing and you have.