7 Secrets To Creating A Legendary Race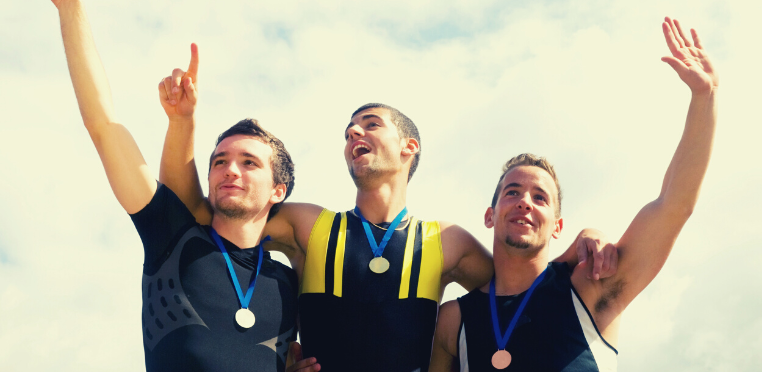 When you're just starting out as a race organizer, you're probably dreaming of creating a race that your participants will love and that will become a legendary tradition that racers keep coming back to, year after year. 
Creating one of those famous and legendary races is a challenge – you need to not only have the basics handled like a superb course, clear communication, impeccable organization and on-point safety – you also have to provide a unique experience that participants can't get anywhere else. 
In this article, we go through a few pointers to help you achieve legendary status for your race. Keep reading and start brainstorming!
The 7 Secrets:
Find your Unique Race Niche 

Share Your Race Story

Be Personal and Connect With Your Participants

Enable People to Socialize at Your Race 

Add The Little Extra That Makes a Difference

Promote Scarcity With Qualification and Limited Spots 

Have Patience and Build Your Race Brand Over Time
Find your Unique Race Niche 
The hardest or longest race, or the race with the most stunning views in a stunning environment, or maybe just the race with the most fun after party… your options for putting a unique touch on your race are endless. The most important thing is finding a unique selling point for your race, to give participants a reason as to why they should enter your race and not any other in your city or country. 
Really think about the unique options you have around you – your location, your local nature or your team. This can provide the foundations to build a brand on. Alternatively, create a unique touch by adding elements to your course, arena, or race experience. It can also be a combination of things – for example, I love doing races in the Marnaton series in Spain because of two reasons: they locate their swims in the most amazing waters that I'm always dying to visit and swim in, plus they host a super fun after party where they invite a band and everyone stays around afterward to celebrate. 
Once you have found your unique niche, you'll need to promote it and tell everyone about it – in every channel you can. Create compelling copy and marketing materials (quality videos and images go a long way!) and make a plan of how, when and where you are going to communicate this in the off-, pre- and full-on season periods. Read more on how to succeed with race marketing here. 
Share Your Race Story
For the best and most authentic races, we usually know who is behind it. We also know that there's a special story that led to this race happening, and a historical reason as to why it's in a certain place or on a certain course. Storytelling, as it is called within marketing, is your best friend here. 
One example of a race that does this well is the ÖTILLÖ World Championships, where it all started with a drunken bet written on a napkin between four friends – a quest to swim and run through the entire archipelago – that became a reality and later on a world-renowned race. Another Swimrun race that tells a story in a different way is Rockman in Norway – anchoring the race marketing and experience around a legendary story of how the great Rockman saved the woman of his dreams. Today, the race goes along the path he ran to save her and the race director even dresses up as "The Rockman" for the event and the prize giving ceremony! See the Rockman story here.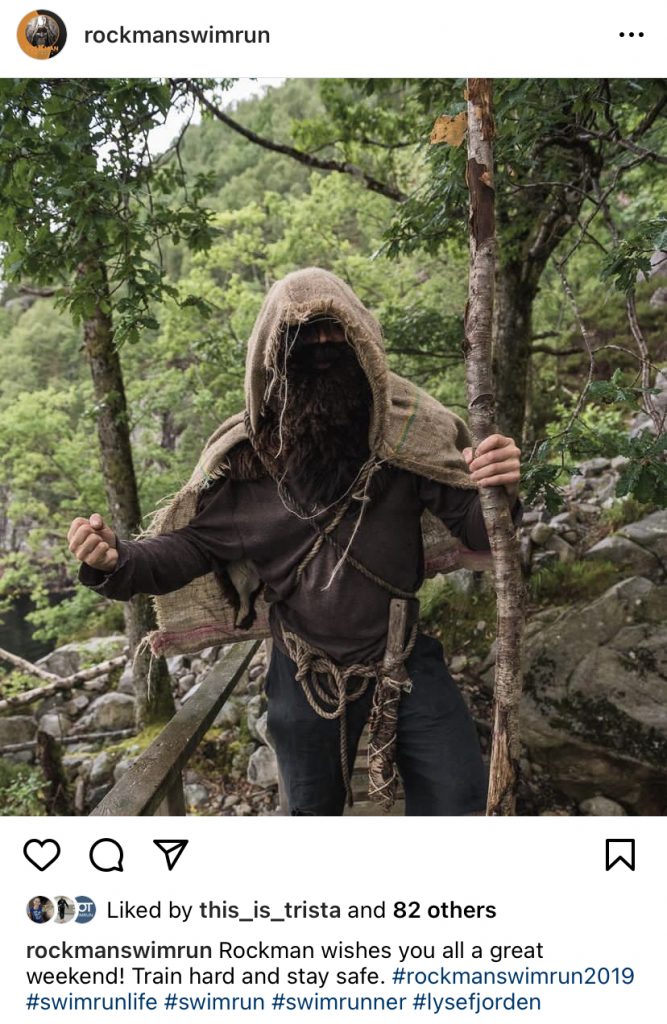 Using the location of your race to tell a story is a great way to make it special. One famously historic course is the Vasaloppet in Sweden, where participants ski the same course as King Gustav Vasa did in 1521 escaping the king of Denmark that led to the uprising against the occupying Danes (he eventually united the realm and became Sweden's first king). 
Using the location, a famous landmark or even the personal story of someone on your race team or yourself can serve as a great substance to a compelling tale about your race that will make people feel inspired to participate. 
Be Personal and Connect With Your Participants
The races that lay close to my heart are the ones where I can visibly see who is behind it, and know that they care about me and my fellow athletes having a great experience. It is so much more authentic if you show yourself and your team in the race arena. Make a speech to express your gratitude for everyone coming, and be there in the race arena when you can to chat with participants and spectators. For every ÖTILLÖ race, the race directors are at the finish line giving each finisher a hug when they arrive – talk about going out of your way to be personal and appreciative! 
The same goes for your marshalls and volunteers – encourage them to be helpful and cheer for participants when they pass the energy and timing stations. A smile and some encouragement go a long way when you feel tired and have a long way to go before you reach the finish line.  
Enable People to Socialize at Your Race 
In a study we made on race participants, more than 10% stated that the social aspect combined with the people they meet at the race is the main reason they sign up for a race. The social aspect of racing is an important part of the whole experience for all racers – and the best memories usually are made with friends and family. 
To make a stronger social experience for your races, try to assign a dedicated hotel or place to stay for international or traveling guests. Also, make sure you create comfortable areas to hang out around the race arena before and after the race. Enable racers to take the experience with them by enabling online forums for racers to connect both before and after the race (for example, a Facebook or Whatsapp group). You'll want your race to become that annual trip a group of friends makes each year as an unbreakable tradition.
Add The Little Extra That Makes a Difference
Another aspect that helps you enhance the social connections as well as add overall value, is to offer pre- and post-race events and gatherings. This helps racers connect and make the race day or weekend last even longer. Organize an after-party in a certain bar, or just in your race arena if the weather permits. You can also invite racers to connect at a mingle around the race briefing the day before. Make an effort to offer good and nutritious food. Also, offering full travel packages in collaboration with a local hotel and travel agency can be a nice detail! 
Promote Scarcity With Qualification and Limited Spots 
If humans think that some resource is limited, we want whatever it is even more. This is a well-known psychological fact within marketing. You can apply this to your race by making it hard to get a spot. 
There are numerous ways of doing this. You can have people apply for a spot and make a selection process out of the qualification. You can simply offer and communicate a limited number of spots available. You can also make participants qualify for the race by collecting points in some way. If you have a series, make people qualify in another race earlier in the season or by collecting points. 
An excellent example of this is the ballot process that Xtri uses for their most popular races like Norseman, Swissman and Celtman. If you want to race in a popular Xtri race, you have to buy a ballot ticket. Then, you have to patiently wait and hope that your ticket is the one that gets picked in the lottery for entries. The organization makes a big online celebration of the ballot drawings, and it is just as exciting every time to see if you get a spot or not.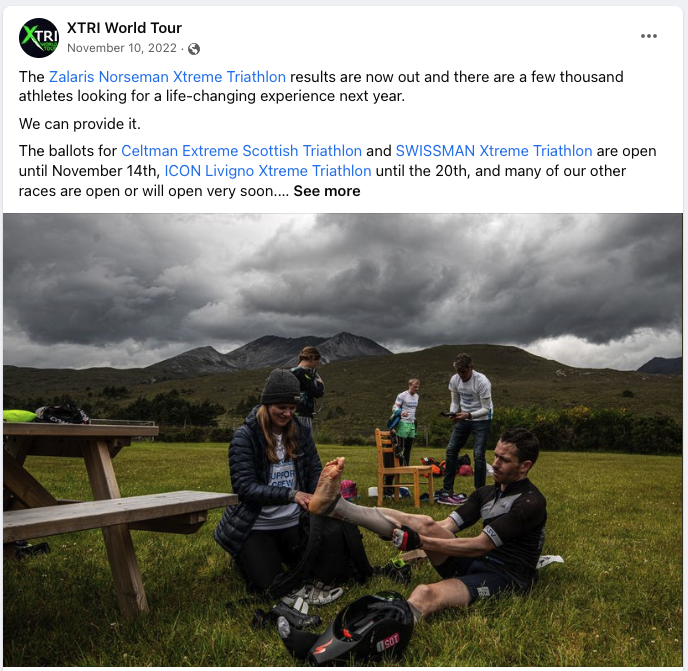 Have Patience and Build Your Race Brand Over Time
Some races are legends simply because they seem to "have always been there". This is the long game in the marketing and branding of any product, service or experience. By consistently putting on a great experience, your reputation will naturally spread year after year by racers recommending you and telling their friends about what a great time they had. If you maintain your reputation year after year, you will get there eventually. Of course, a little boost with modern tools such as online reviews, a referral program and a thorough marketing plan with compelling imagery will get you there even faster! 
We hope this article gave you some inspiration! If you want to bounce any ideas, we are happy to listen and help out with knowledge from our experience of working with hundreds of race organizations. Book a meeting here.