A Better Participant Experience – How The RaceID App Can Help Your Race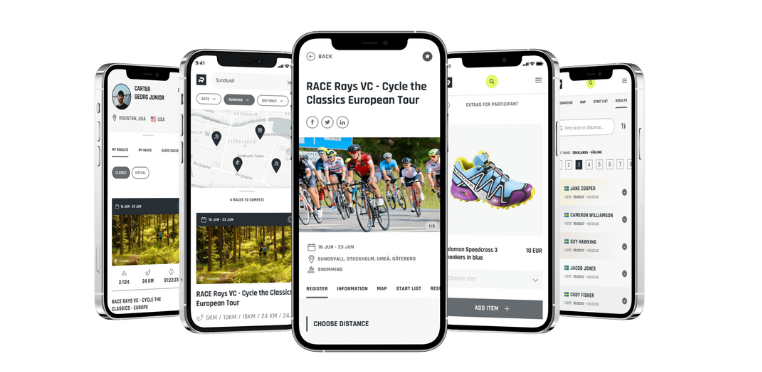 If you are a race participant today and are longing for a new challenge, it can be quite difficult to find a new race. Especially a race to suit your specific needs. There's no one place where you can browse every race in the world or find local races for your favorite endurance sport.
Many participants are also frustrated with complicated sign-up processes or finding the right information before, during and after the race. 
Finally, in order to ensure longevity and a successful event, you need to offer your attendees a great experience. The modern consumer has high expectations for a tailored experience, self-service options and a user-friendly design. A good participant experience is more than just the race day itself. It starts long before and continues after the race has finished. This is why RaceID exists. 
The RaceID community gives participants the possibility to find inspiration, browse available options and sign up easily for new races. We also provide you as a race organizer with the tools and technology required to create unforgettable experiences. From the moment of sign-up to crossing the finish line, RaceID helps you give your participants a better race journey. In this article, we show you how this is done through the RaceID App. 
What is the RaceID Application? 
The RaceID App for Participants is available on both iOS (App store, for iPhones) and in the Google Play store (for Android phones). This app is the base for the growing RaceID community. It offers participants a place to find and store everything related to their racing passion as well as a way to connect with other participants. 
The app is one of our main focuses and undergoes constant updates and feature improvements. In other words, you and your racers can expect some exciting times ahead that will improve the race experience on both sides!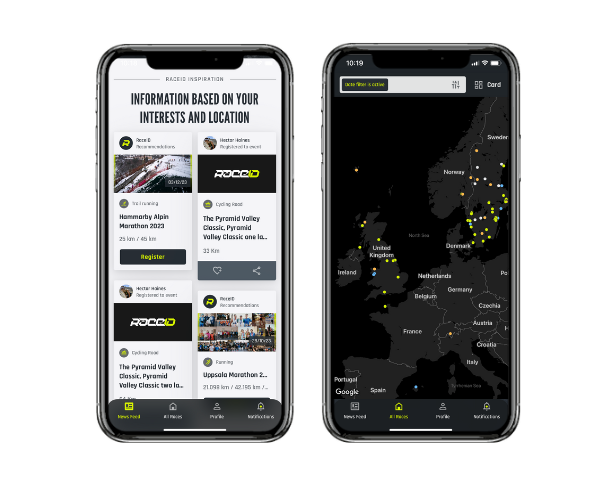 The RaceID App Today
This is what your participants can find in the app today: 
Stacked calendar of races

– browse by location, sports or race name to find new challenges, through either our list or map search

Race pages

– participants get detailed information about each race in the calendar on the dedicated race pages. For past races, results are accessible from the race pages as well.

Profile & Login

– participants can create a RaceID account, fill out their profile and store their personal information for one-click registration, access to historical results and more 

Favorite races

– participants can shortlist races they are interested in for the future and save a list in their profile to plan their race year 

Speedy registration

– when logged in, participants can register in a few seconds with auto-fill of your personal information (works on the web too!) 

Follow friends

– connect with other participants by following them (and hopefully they follow you back!) 

News Feed

– participants see new races in their area mixed with activities from their network (for example, if friends registered to a race) 

Commenting

– participants can leave comments on their friends' activities, for example giving congratulations when a friend finishes a race or giving some motivation when they sign up for a new race 

Notifications

– racers keep up to date on any activity related to their races, including communications sent from organizers of races they are registered to 

Push notifications

– after participants have downloaded the RaceID App and they are signed up for your race, you as an organizer of a race, can send them push messages (i.e. important updates about the race, or offers from your sponsors) straight on their phones' home screens

Registration extras

– when participants register, they can purchase extras such as protection insurance, training plans or whatever you as the race organizer decide to include in your registration form.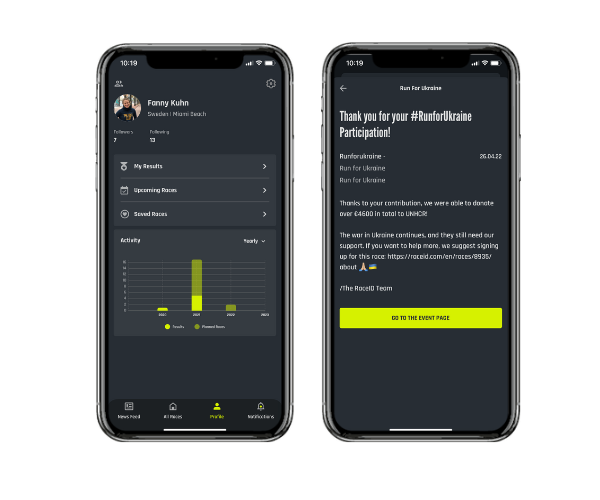 The RaceID App in The Near Future 
As mentioned, we never stop improving the RaceID App, as we want it to be the tool that helps more people get the most out of their race experience and journey. Here is a list of developments you and your participants can see in the near future: 
Customized race recommendations

– we are building a proprietary algorithm that will help participants receive recommendations on which race they should do next based on their personal interests, history, location and preferences. We are also building the option of making your event appear from frequent in race recommendations.

Participant communication

– the messaging feature will be improved and extended, so you can communicate the right information at the right time to your participants and help enhance their entire race journey

Race reviews

– there will be a feature for participants to leave reviews on your race pages. This will help your race get discovered, both on RaceID and in search engines. 

Training plans

– we will offer participants ways to get in shape and train for your race through customized training plans

Inspirational content

– the app will be filled with all the information and inspiration participants need to perform and get the most out of every race journey 

Custom merchandise and gear

– additional possibilities to add extras in your registration will be added, making it possible for you to offer your participants everything they need to be prepared for your race. 
What happens if some of my participants don't download the app? 
No worries. Most of the features described above are also available in our web solution. For example, participants can access the calendar search in a similar way and they can also easily log into their profile through raceid.com in any browser and access all their information, saved races and results. The registration auto-fill also works on the web, and if you want to send messages, you can combine the push notification with an email send to make sure it reaches all participants. 
The only app features that your participants will not see on the web are the custom newsfeed, the ability to follow friends and to comment on activities. 
As a race organizer, why should I care about the RaceID App? 
Today, most participants aren't looking for a simple competition, they want a fulfilling experience. It is evident through numerous surveys and investigations that participants value not only their results but also the ambiance, the social aspect and all the other small things that together become part of the bigger picture: the race journey. 
As a race organizer, it should be in your best interest to provide participants with the experience they are looking for. Through technology, the RaceID app helps you: 
Give your participants a smoother registration experience, which optimizes conversion rates for you and subsequently increases your revenue 

Communicate efficiently with your participants. A big stress for many racers is not having accessible information about where and when bib-collection or the start is and in general, being unprepared due to a lack of communication from organizers. Through the RaceID app, you can stay connected with your participants and communicate information efficiently. 

Help your participants connect to a relevant and purposeful community where they can find inspiration to do their very best at your race

Expand your own community and attract new racers. As the app usage grows, the RaceID community will grow bigger and stronger. As a part of this community, you can reap the benefits of extra exposure for your race that will help grow your event with more participants over time. 

Drive revenue for your race. It is not always easy to be a race organizer, and the business model is challenging. You have to cover large costs upfront and have uncertainty in your revenue. You cannot always predict exactly how many participants will come, and your earnings usually come later in the season. Any way you can secure extra revenue is valuable. With RaceID and in the RaceID App, you can supplement your season with additional sales such as merchandise and gear in addition to charging a registration fee. 
Are you curious to see what the app looks like yourself? Download it for free in the App Store or Google Play.