How to Organize a Backyard Ultra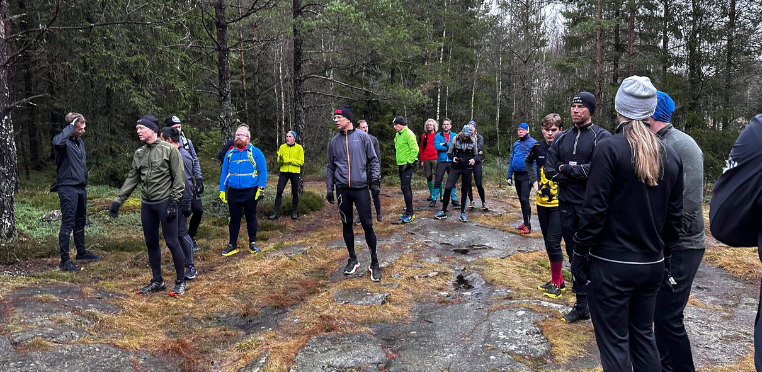 Backyard Ultra is a form of ultra running that has grown in popularity in the last couple of years. It started with the legendary Barkley Marathon which turned into an acclaimed Netflix documentary with the same name. Lazarus Lake, who created the Barkley Marathon is also behind Big's Backyard Ultra, which is a World Championship for Backyard Ultra and an utmost prestigious competition. 
In a Backyard Ultra, participants run a lap measuring 6,7 km in less than an hour, every hour. The aim is to run as many laps as possible until there is only one runner left in the race. The runner who remains in the end is the winner! The world record for men in Backyard Ultra is 101 laps and was completed in October 2022 by Belgian Merijn Geerts. The women's world record in Backyard Ultra belongs to Courtney Dauwalter who ran 68 laps in 2020 at the Big's Backyard Ultra. 
Lazarus Lake, and Marcus Ekenstierna from Sweden Runners, are driving the development of Backyard Ultra via the organization and backyardultra.com. All events that qualify for Big's Backyard Ultra are listed on this website. Right now, over 350 races worldwide are listed and approved at Backyardultra.com
In order to get your race listed at backyardultra.com, you must follow the specific Backyard Ultra rules and hold a good standard at your event. These rules and standards exist so that Backyard Ultra can develop uniformly worldwide. This enables participants to recognize themselves regardless if they participate in a Backyard Ultra in the US or Sweden. 
What is the most important thing to think about when organizing a Backyard Ultra?
We have a ton of guides when it comes to organizing races in general. For example, consult the Ultimate Checklist for Organizers to make sure you don't miss a thing! However, Backyard Ultra's have their own specific rules that you need to adhere to. Have a look at the list below to get an overview of these rules. 
Backyard Ultra Rules
Course.

What does a Backyard Ultra course look like? The course should preferably be organized in a loop or out and back and must be 6.7056 km or 4.16666 miles long. 

Wave starts/ Starting Corral.

How is the start of a Backyard Ultra race organized? It is recommended that a Backyard Ultra uses what is known as a wave start or starting corral. This type of race start avoids runner traffic jams at the start of the race. 

Starting a new lap.

How do participants know when to start a new lap? Each new lap is started exactly on the hour when the bell rings and the participants must receive a warning when there are  3, 2, and 1 minute left. No late starts are allowed! 

Lap completion.

How is a lap completed and what are some rules regarding this? A lap must be completed in 60 minutes. No race participant may leave the track other than to go to the toilet. Spectators are not allowed on the course (this also includes eliminated participants) and personal aids may not be used when running the course. For example, pacing or using cruise control is not allowed.

Timing.

Do you have to use timing for each loop? It is not mandatory to use timing of the loops – this is optional. 

Winners and results.

The winner is the last person to complete a lap. All participants should receive their results in the form of a distance covered (how far they have run in total). If there isn't one person who completes more laps than anyone else, the race doesn't actually have a winner. 

Cap.

The race must be open ended! 
In addition to these rules, there are some best practices to follow. We have interviewed Marcus at Sweden Runners. If anyone knows about Backyard Ultras – it's Marcus! 
Backyard Ultra Expert shares best tips for a successful event
We asked Marcus at Sweden Runners what is the most important thing you as an organizer need to think about when organizing a Backyard Ultra event and he replied with the two following tips. 
#1 Treat every participant like a winner! (because they are!)
"I have seen races that, for example, only give medals to those who ran at least 7 laps. That's so wrong – definitely not what Backyard Ultra is about! Backyard Ultra is for everyone, no matter what level you are at. Every single participant is a winner! Everyone who stands on the starting line has the opportunity to test their exact limit –  and this means that it does not matter if you run 1 or 24 laps. The  performance is worth just as much. So pay attention to everyone in the same way, regardless of how many laps they have managed to scrape together! Show every participant that you see them and their efforts –  call them by their name and greet them with a smile at the finish line! 
"Backyard Ultra is for everyone no matter what level you are at"
We could not agree more! Ultra-marathon races like Backyard Ultra's are amazing because they create so much camaraderie among participants. It pushes people not only to their own personal bests – but motivates others around them to continue the fight. Everyone who participates in a Backyard Ultra race wants to bring their A-game, and deserves to be on equal terms to everyone else. 
#2 Make your race visible on race day
"There are many people who may not be able to be there IRL but who would find it very fun to see how many laps their friend, family member or perhaps colleague runs. Make use of Facebook and other social media for live updates of your race! If there is an opportunity, also use some kind of timing system with Live results that makes it easy for followers to follow your race!"
"Use Social Media for Live Updates of Your Backyard Ultra" 
This is also a great tip and one that we believe makes an endurance race all the better. It is hard to organize spectatorship when you have races that could take between 12-24 hours or more to finish. Therefore, use the power of social media! It's free and easy to use! As Marcus suggests as well, make sure you use a timing system that offers live timing of some kind that spectators can follow online via a link. 
Resources for those who want to organize a Backyard Ultra Race
Have a look at Backyardultra.com which contains a lot of relevant information about organizing Backyard ultra races.
If you are ready to organize a Backyard Ultra race and need help with a registration system that saves you a lot of precious admin time, see how you can get started with RaceID. 
If you need some references, Nalta Backyard Ultra and Big Shadow Backyard Ultra are two races that save time and give their participants a superb experience with the help of RaceID. 
Did you find this article helpful? For more tips subscribe to our newsletter!