Assess and Prepare for Risks With Your Event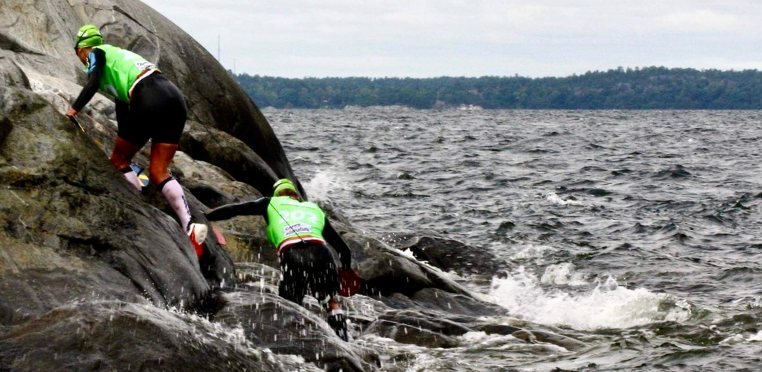 To the surprise of no-one, safety is critical at any event, especially when you deal with high-impact sports and rough terrain as is often the case with outdoor races. Read this short article to learn about planning a safe event, and take advantage of the free risk assessment template to help you organize your safety.
You can download this free risk assessment template right here. Provide your email address and we will send you a message with two options – to make a Google Sheet copy or download an excel sheet:
Watch Hector's Video about Risk Assessment and How to Use This Template: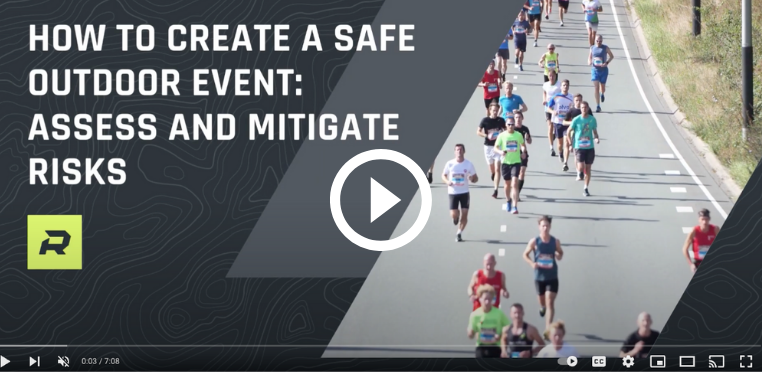 Think about the risks at your event
Creating a Risk Assessment is the best way to quantify the risks involved in your event. The general principle is to think of a Risk, give that risk a Severity (or impact) and assess the Likelihood of that Risk occurring. Once you have this estimate, you can multiply your Severity rating with your Likelihood rating, and come to a more qualitative assessment of which risks need responding to or mitigating. Typically, a Risk Matrix might look like this:

Common Risks at Outdoor Events
Below you can find a list of Common Risks associated with Outdoor Events. This list, while comprehensive, is not exhaustive. You will have your own set of specific Risks connected with your race (please note, RaceID or I take no responsibility for the Safety Planning of your event when using this guide – it is only a helpful tool you may use!).
Natural Risks
Weather

Sun

Wind

Rain

Snow

Fog/Cloud

Terrain

Cliffs

Rivers

Steep Scree/Rocks

Dangerous flora (vegetation, plants)

Cold water (lakes/sea)

Other phenomena

Earthquakes

Volcanos

Landslips/sinkholes

Dangerous fauna (animals)

Damage to sensitive environments (both flora and fauna)
Risks for Participants
Personal acute injury (twisted ankles, knees, etc)

Personal illness (heart attacks, stokes, infectious disease, etc)

Getting Lost

Road Crossings

River Crossings

Falling from height (on exposed trail for instance)

Drowning (in swimming and water sports)

Heat Stroke

Hypothermia

Hypernatremia (dehydration)

Hyponatremia (over-hydration)
Risks for Spectators
Personal illness (heart attacks, stokes, infectious disease, etc)

Heat Stroke

Hypothermia

Crowd related risks (crushing, stampedes, terror, etc)
Other Risks
Car Parks (moving vehicles, etc)

Toilets (or lack thereof)

Drinking Water

Food poisoning

Washing/Showering water (should be running water to avoid disease transmission)

Theft (from parked cars, or pick-pockets, etc)

Collapse of temporary structures (tents, bridges, barricades, etc)

Littering and inappropriate trash disposal
Risk Severity
When assessing the severity of a certain risk, think of the potential harm. Is the harm likely to lead to permanent injury or even death? This is a High Severity Risk. Is the harm economic? Damaged equipment because of a weather event might be considered a Low Severity Risk.
Think critically about the level of harm for the worst case risk scenario.
Risk Likelihood
What are the chances of a given risk occurring? Rain and wind in the west coast of Scotland is a given, at any time of year. This is a High Likelihood Occurrence. On the other hand, a volcanic eruption could be classed as a Low Likelihood Occurrence.
Again, think critically about the likelihood of occurrence of the risk. The date and time of the event will even affect the likelihood of occurrence. Might the risk become more likely throughout the day? Or at night?
Risk Scores
It's now up to you to decide how to quantify the risks. Usually, you can assign points to severity and likelihood (from 1-5 for v.low to v.high for instance). If you multiply the Severity by the Likelihood you will get a number (1-25 in this example), that you can then assign strategies too. Low Scores (perhaps 1-5) will require No Action. Medium Scores (5-15) might require Mitigation. High Scores (16-25) will require Avoidance Action.
Mitigation Strategies: How to deal with risks associated with your event
With any mitigation strategy, you need to find a solution (or multiple solutions) that reduces either the Severity or the Likelihood of Occurrence (or both!) into acceptable ranges. In the previous example, reducing the Risk Score into the range 1-5 means that no further action is required (the risk is thus considered insignificant).
You saw two examples in the Risk Matrix in the beginning of the article, but another example could be: Require 'Mandatory Safety Equipment' to be carried by participants. This could be rain jackets (reducing the Severity of a bad weather Risk), or a headlamp (reducing the Likelihood of Occurrence of a fall if participants are still expected to be racing during dusk or darkness).
Do I need Emergency Services and doctors on site?
The answer is of course, it depends. Usually, if you have good communication with your local authorities ahead of the race they will be able to advise you which emergency services you will need to coordinate with.
Police will be required for managing large crowds and/or traffic.

Health Services and Ambulances will be required for large participation numbers, or events with particular heightened risk for injury.

Mountain Rescue Services will be required for all mountain events in extreme environments

Fire Services will be involved if there is any fire risk in the arena or on the course, or perhaps for other specialist tasks
Like before, using emergency services is a mitigation strategy to reduce the Severity of an incident. Note that it is always a good idea to have First Aid trained personnel at your event – whether it's volunteers, participants or part of the race organization itself (or some combination thereof). 
Organizing a race or Outdoor Event can be stressful, even at the best of times. Planning well in advance, and having a strategy in place to reduce risks and in any case of emergency will allow you to relax more on race-day and share in the enjoyment of your happy and healthy participants, spectators, volunteers and staff!
We hope these tips help you out with Safety Planning for your race. Let us know if you tried these tips, we would love to hear about how it went for you! You can find more resources on outdoor event planning in the Organizer Blog. 
/Hector Haines from RaceID