Building Your Own Registration System vs Using a Platform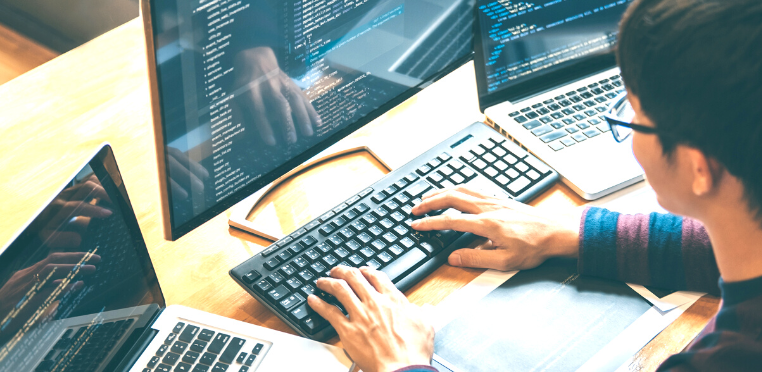 When you host a race, you will inevitably need some way for participants to register and pay. If you want a digital and online solution that most participants expect, you have two options to consider: using a ready 3rd-party tool or building your own registration system for your website. 
This article addresses the pros and cons of each solution, and you can use it to determine which option best suits your organization and type of race. Although RaceID is one of those third-party tools, we want to give you a view of both options so you can find your ideal solution. 
Build Your Own Registration System
Building a registration form is a viable option if you have the budget for it and the resources to go through with a large development project. Mostly, you would consider this option if you are a very large race or series, especially if you want to build a large brand around your race and are meticulous about your brand image and marketing representation  (and also don't want a white-label solution). 
Pros of Building Your Own Registration System
You get it exactly how you want it. When you build your own system, you can decide from day one what features you would like, how your form fields should be designed and how your administration system should look like. It gives you tons of freedom and flexibility over design and functionality (of course, according to your budget!) 

You can embed it on your website. Your registration will be right there on your website, no need for racers to click a link and go to another website while they register. 

You can adapt it to your branding and design. Compared to using 3-rd party tools where you usually are limited to what colors, images and logotypes you can add to a standard registration page, building your own system allows you to design a form and tool that perfectly matches your branding.

Lower ongoing costs per participant. When you develop yourself, you will have big costs upfront as well as for continuous development and updates. However, the cost per participant is usually lower since the only additional cost you will have to cover is the percentage your chosen payment processor charges you.
Cons
of Building Your Own Registration System
You will need to keep your system updated. This can cost more than you think and can be difficult as well. When developing solutions, it is easy to think of it as a one-time project, systems, especially customer-facing ones, must be kept up to date to serve participants as they register. What will you do if the system suddenly breaks down? How quickly can you address critical bugs? You will most likely have to keep a developer on staff to make sure any issues can get solved quickly, which easily adds up in the balance sheet. 

It will take longer before you can open your registration. Software development takes time, so be prepared with a flexible project plan when you start. You do not want to be left standing at the start of the season, wanting to open sign-ups, with a half-ready tool.

Custom development is expensive. Count on a budget of several 100 000 EUR. Developing web tools and apps are not cheap, especially in today's market with limited supply and high demand for developers. 

You will need to handle a contract with a payment provider and pay for it. When using a 3rd-party registration service, you have everything built in and don't have to deal with any payment providers or the like. When you build your own system, you will need to find, negotiate rates and deal with a payment provider that can process card payments and other payment methods for you. 
Tips for organizers that are building their own registration system
At RaceID, we have learned from working with all levels of development, and especially if using a contractor, negotiate your project fee based on milestones or completion of the project – rather than a time- or hourly-based contracts. More often than not, development projects get delayed. This can be because you change your mind or project scope or require too many iteration adjustments or the complexity of a feature may just simply be underestimated.
Also, keep in mind to specify which integrations you need with your contractor. Perhaps you want to send data to advertising platforms or email marketing tools? Most likely, your timing provider will also need access to the registration data. Therefore, make sure you specify to your developers what type of integrations they should design for.
Use a Registration Platform
The most common solution among races today, whether large or small, is to select a 3rd party registration provider that offers the features you care about, and then not worry about registration support or maintenance. Of course, this also has its disadvantages, which we will explore below. 
Pros of Using A 3rd-Party Solution For Registration
You can get started and open registration right away. Most providers are plug-and-play.

Most providers are plug-and-play. In other words, you can be up and running with open registration within a day. 

You will get a modern system that is actively maintained.  Registration providers are experts on what they do and put all their effort into building a great tool for you and your participants. You will automatically get updates and new features, and you don't have to worry about keeping things up to date yourself. Of course, there is a great variety of systems on the market – make sure you choose one that has ambitions to keep the technology cutting edge and up-to-date continuously!

You can get increased visibility when exposed on a different platform. Many registration providers also offer a race calendar for participants to browse, find and register for new races. It is a great added benefit and free marketing for you to be visible on such a platform. We suggest you make sure the tool you use has a race calendar.

Usually no or very little upfront cost. The

payment structure of registration tools

is similar across the world, you pay per participant in the form of a small percentage that the registration provider takes as a commission (usually about 4 to 10%) from your registration fees. Some providers even offer to offset this cost to each participant as a processing fee, essentially making it free for you to use the tool. Some providers take a small upfront cost as well to cover onboarding and personal support. 
Cons
with Using A 3rd-Party Solution For Registration
Custom branding is often limited. While you can usually add images, links and sometimes your logo, the way you can brand and customize your race page is often limited.  

You usually have to use a standardized registration page and link to that from your site. Most tools don't offer registration form integration on your website, if this is what you are looking for.

You will have to pay a fee per participant to use the system. As mentioned above, the way you usually pay for a third-party registration service is by commissions on race registration fees processed through the system. Compared to building your own system, this cost per participant per registration will be higher (but it will usually include payment processing). 
Summary: Should You Build Your Own Registration System Or Use a Registration Platform? 
Essentially, it comes down to your needs and preferences. It is definitely easier to use a registration platform, and probably cheaper as well in the long run when you count improvements and continuous maintenance costs for your own system. However, if your desire is to build a brand and it is important for you to collect everything under the same roof, you may want to consider building your own registration system. 
We should note that at RaceID we have had several clients that had their own system for many years, and ultimately contacted us for help, because they couldn't seem to keep their own system up-to-date anymore. So if you decide to build your own system, make sure you have a long-term plan for how you will develop it as technology advances.  
Decided you need a 3rd-party party tool? Compare registration services on the market.