Strategies for Selling Merchandise and Extras for Your Race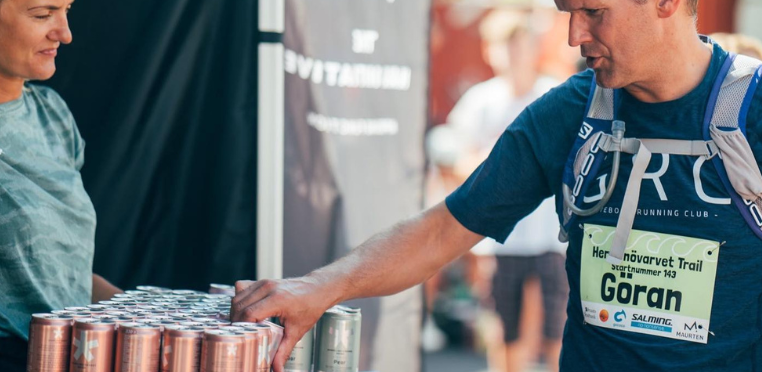 Photo: Hermanövarvet
The main income stream for race organizers is usually the registration fee. It is required to cover any costs you have for materials, timing, venue rental, staff, your own salary and to make profit for the event (or charity). Sometimes, it can be really tough to just break even, especially nowadays when the number of signups is hard to predict and in general, participants are registering later than before the pandemic. 
One thing that can help you worry less about the bottom line, and add another income stream, is to sell a few extra useful items in your checkout. In moderation, this adds extra value to your experience for participants as well, especially if it's things that racers need to buy anyways. 
In this article, we explore which items you can sell with your registration and the best approach to make the most out of this opportunity without overdoing it. 
List of items possible to sell in your race checkout:  
Race merchandise: T-shirts, hats, jackets, and other items with your event logo

Training programs: Specific training programs or packages by coaches for your racers

Parking passes / Event Transportation: Reserved parking near the start and finish line or bus transportation from the nearest public transportation hub.

Food and beverages: Pre-paid meal packages, snacks, and drinks available on race day

Accommodation / Travel: offer packages in partnership with a local travel agency 

Insurance: injury or sickness refund protection

Finisher medals: usually a part of the registration fee

Bib customization: custom bibs with their name or a special message

Race photos: high-quality photos of themselves during the race or finish line

Massage and recovery services: offered after the race in the arena or closeby
Race Merchandise
The most common thing to sell at a race is probably race merchandise. The options are endless, only your imagination sets the limits here! A race finisher t-shirt is what most racers expect. Note that some organizers also include this in the race registration fee. Remember that with any t-shirt, jacket, pants, etc you will need to remember to ask for size in the registration.
Other ideas for race merchandise could be hats, caps, jackets, long-sleeved shirts, tops, socks or buffs. Even non-clothing items can be popular. I have a cutting board with a race logo on it that I love and use often as it brings back great memories! Coasters, towels, cups and mugs are also great options. 
Training Programs
When someone signs up for a race, they evidently need to train for it! Unless they are an elite athlete that already works with a coach (which only about 10% of your participants probably are), they need a plan to reach their goal. In the race checkout is an excellent opportunity to offer either a general or a custom training plan for sale. 
With RaceID, you have an easy option for this and can offer participants the virtual coach and bespoke training programs through Racefox with a click of a button. 
Other ways to offer training programs can be to work with a local coach or influencer and have them write a plan for your race that you can then sell in the checkout. 
Parking Passes / Event Transportation
Every participant will need to get to your race somehow. Most people want a reliable way to ensure arriving at the start securely and on time. Offer a bus or shuttle transportation from the closest city center, airport or train station and sell tickets for this in your registration. Make sure you check prices for renting the transportation vehicle and the chauffeur beforehand, so that you can calculate ticket prices! 
You can also sell parking passes at prime locations near the event (probably the finish line!). Oftentimes this is a great way to get landowners on-side. Offer them the cut of the parking-fee or pass!
Food and Beverages
Athletes are hungry people, and not many will deny the opportunity to get a healthy recovery meal in their bodies after the race! It takes a bit of logistics to organize, but if you can get a local food truck or restaurant to come and support you, you can quite easily arrange for food to be served. Negotiate with the vendor and come up with a deal that you both make some profit from, while offering a good-value meal for your racers. If you don't feel like offering a full meal, selling snacks or lunch packets can be easier.
Accommodation / Travel
If you have many out-of-town or international participants, a great option is to work with a local travel agency or tourist organization and put together an entire race weekend package with airfare, hotel and race fee all in one package. There are many ways you can put this together – just make sure you have good help and support from your packaging partner as dealing with schedules and flight bookings etc. can be complicated. 
Insurance
Offering a refund insurance for the entry fee in case a participant should become sick or injured on race day is becoming more and more common. It is usually charged as a small percentage (apx. 10%) of the registration fee, and then participants can get back their sign-up fee if they show proof of injury/illness in the form of a doctor's note. It is an extra safety measure that helps participants sign up earlier than they would otherwise. Some registration providers even offer this as a built-in option (check out this feature at RaceID) and include unforeseen transportation problems, or family issues. 
Finisher Medals
Finisher medals are generally viewed, from an athlete's perspective, as something that should be included in your entry fee package. Make sure you take this into account when you set your registration fee. If you want, you can also make it optional for people to add the medal. Environmentally conscious racers often choose to opt out of receiving a medal. 
Bib Customization
If possible via your provider, you can offer racers to customize their starting bib sign with a custom name or custom number, and charge an extra fee for this. Just make sure the money you earn is worth this effort! 
Race Photos
When participants finish a race, they want proof and memories, all of which comes in that glorious finisher photo. Some races offer this for free, but you can also hire various services that do this for you and enable you to charge a fee for the photos that racers can choose to buy afterward, or pre-pay in the registration. 
Massages and Recovery Services
Especially after long races, participants will be tired and many have aches and pains. The temptation for a good recovery massage or stretch afterward is high! Have a local physical therapist put up a tent in the race arena and offer massages after the race. You can also pre-sell this service in the registration for those that like to plan ahead. 
General Tips for Increasing Revenue with Extras and Merchandise
Offer unique and high-value items: Offer items that are exclusive to the event and have high perceived value, such as limited edition merchandise or special finisher medals.
Personalize the experience: Offer customization options, such as bib customization or personalized finisher certificates, to make the experience more personal and memorable.
Package and bundle items: Offer packages or bundles of items, such as a race entry fee, parking pass, and pre-race meal package, to encourage participants to purchase multiple items at once.
Upsell at key moments: Encourage participants to purchase additional items during key moments, such as when they register for the race or at the finish line when they are feeling celebratory.
Market effectively: Use targeted marketing and effective communication strategies to raise awareness of available items and increase sales.
Leverage partnerships: Partner with local businesses and sponsors to offer additional items and services, such as recovery massages or food and beverage packages. Use their channels to market your race in a cross-marketing collaboration. 
Monitor and adjust: Continuously monitor sales data and adjust strategies as needed to ensure you are on the right track. It is always a good idea to evaluate sales categories, and every aspect of your event, yearly after each season to see what you can improve for the next. 
We hope this article gave you some inspiration for how to optimize your registration process. If you want more general tips on how to make your race profitable, check out this article.