How Much Does it Cost to Host a Marathon?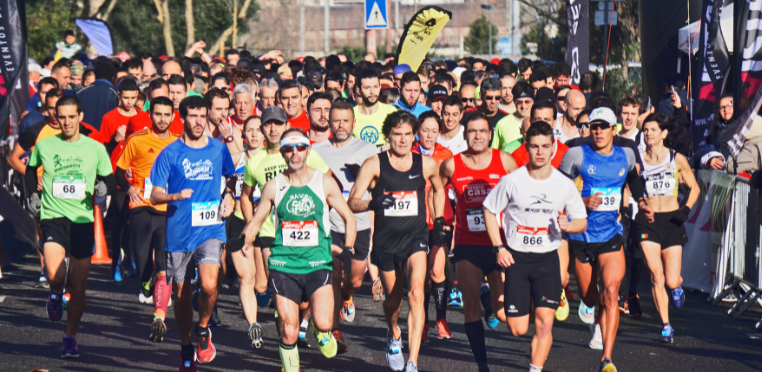 Before I started working in the endurance racing industry, I did not think so much about everything that was going on behind the scenes during a race. As an athlete, you just pay your entry fee and enjoy the race. But there is so much more going on, that race organizers have to think about, and that takes plenty of resources to make happen! This article goes into detail on the steps required to host a marathon, and what each step costs. 
As you probably know, a marathon is a long-distance running event with an official distance of 42.195 kilometers (26 miles and 385 yards). The marathon takes its inspiration from Grecian 'history', a Grecian soldier ran the distance from the town of Marathon to Athens, carrying the important news of a victorious battle against the Persians. The distance he actually ran is debated, and the first ever marathon race (1896 Olympics) was about 40km. For a long time, marathons had slightly differing distances until they were standardized in 1921 by the IAAF. The distance chosen was that of the 1908 Olympics (London), whose route was between Windsor Castle (a residence of The Queen) and the White City Stadium, plus a lap of the track to finish.
Marathons are today one of the most popular mass-participation events and they can be found all over the world. Some of the more famous marathons include the New York City Marathon, Boston Marathon and London Marathon attract over 30 000 participants annually.
A marathon can seem like a daunting task to organize. But really, you have many of the same costs as any other shorter event, though you need to account for the additional length of the race course, and the duration of the race. Below you will see a breakdown of some typical costs (these numbers are based on European/US pricing, other localities may vary). 
Need to calculate your budget? Download our Free Cost Calculator for races.
Breakdown of Costs for Hosting a Marathon
Venue Rental & Course
The first step in hosting a marathon is choosing your location. While most organizers choose a city or town near their home, some may want to organize the race at a particularly beautiful location elsewhere. It can be useful to find a location that has already been used previously so that you can save time and money on permits and insurance, and it can be easier to convince the local authorities to receive the necessary permits. 
You will need some kind of venue that acts as your base for the participants, spectators and staff. This can be inside or outside, ideally close to the start or finish. Renting out a venue can cost anywhere from €500 to €10,000 per day depending on its size and location. 
There's also the cost of the land. Marathons can require a lot of space, and you'll need to rent or buy them from someone who owns it. If it belongs to the public, you need to apply for a permit. The larger the race, and the more participants, the higher that cost will be. 
Also, factor in the small cost of buying materials for marking the course, such as tapes, barriers, flags and signs. 
Permits 
You will need to contact your local community or the police to see which permits you need to apply for to host your event. This usually has a fee and can vary a lot depending on the size of your event and your country. Make sure you find out what the relevant laws are in your location. Check out this article for more details on how to apply for permits. A permit can cost from just €50 to up to several thousand. 
Insurance
Next up is insurance. If you have not insured your company or your event and someone is injured during your event, they could potentially sue you for millions in damages. You'll also want to cover your liability against the risk of injury or death by having medical staff on hand at all times — especially if participants are required to sign waivers before participating in the race. Make sure your participants agree to your terms when they sign up for your race to avoid future legal problems. 
Security & Medical Staff
Hiring security guards to keep order during the race is recommended, especially if you're hosting thousands of runners in one area at once. This can cost anywhere from €1,000 to €20,000 depending on how many guards you need and their wages per hour (minimum wage varies by country and location).
Medical staff — having paramedics on hand at all times during the race is crucial because accidents can happen at any time. Make sure you conduct a risk assessment of your marathon beforehand, so you can prepare for and mitigate as many risks as possible. 
Staff & Volunteers
Depending on the size of your event, you may need help to run it. Usually, you can find volunteers or marshalls to help you out. You will probably have to hire a few people to work with you closely on your team, especially if you aim for hosting a marathon with thousands of participants. Check out some ideas on different roles here. 
Marketing, Props, Shirts, Medals & Merchandise
Marketing is one of the most important parts of the preparation process because it will help attract runners who want to participate in your race and thus give you revenue. You can advertise through social media sites such as Facebook and Twitter as well as local newspapers and radio stations. We give you our best marketing tips in this post. 
You also probably want to offer racers some kind of gift for participating, included in the starting fee. It is common to get a finisher t-shirt for example, and many runners collect these with passion. Racer t-shirts can cost between 10 to 30 EUR per shirt. 
Likewise, medals are important for many racers. They can also cost from 10 to 20 EUR per person. Make sure you look for some sustainable and modern alternatives! 
Count on also buying some kind of food or drink for your racers. This includes fluids and snacks at energy stations. A marathon event is long, and you might want to include energy stations at least every 5 kilometers. 
Registration and Timing
You will need a provider or platform that takes care of your registration process, including taking payments, generating start lists and connecting them to your timing system. These tools usually charge a fee per transaction, 3-20% of the Entry Fee. Some organizers pass this cost onto their participants (they uplift the entry fee based on the platform costs). In general, it's not a huge relative cost. When choosing a platform, think about both the features you need and the user experience (including participant user experience!). If you want to learn more about choosing a registration platform we have this article that goes into more depth.
Timing your event can be expensive, but it's necessary if you want accurate results from each runner so they can receive their finish times and awards. Some races use manual systems while others use digital systems and chip or RFID timing that requires personnel and transportation of heavy equipment. Chip Timing systems usually cost between €2000 and €5000, and you will have to add a cost per participant or chip to that, which can be 2-3 EUR per person. To evaluate different timing methods, check out this comparison of chip timers and this article that compares chip timing and app timing. 
In Summary: How much does it cost to host a marathon?
If we calculate an estimate for everything above, using our race cost calculator, for a race of 2000 runners, the approximate cost to host a marathon (in Europe/US) is around €85 000. This includes 2000 runners, 10 staff, medals, t-shirts, timing, registration, €2000 venue rental or permits and a marketing budget of €15 000. It can sound like a lot of money, but if you calculate to charge €100 (which is an upper bound average registration fee for marathons), you would make a profit of over €100 000 (of course, part of this would also be used for your company expenses and paying yourself a salary). Another way of doing things is to set a registration fee you want to offer, then work backward to see where you have to save costs – which can be relevant in competitive markets if you don't have a unique selling point relative to other races in your region.
Here's what the calculator looks like, with the example above: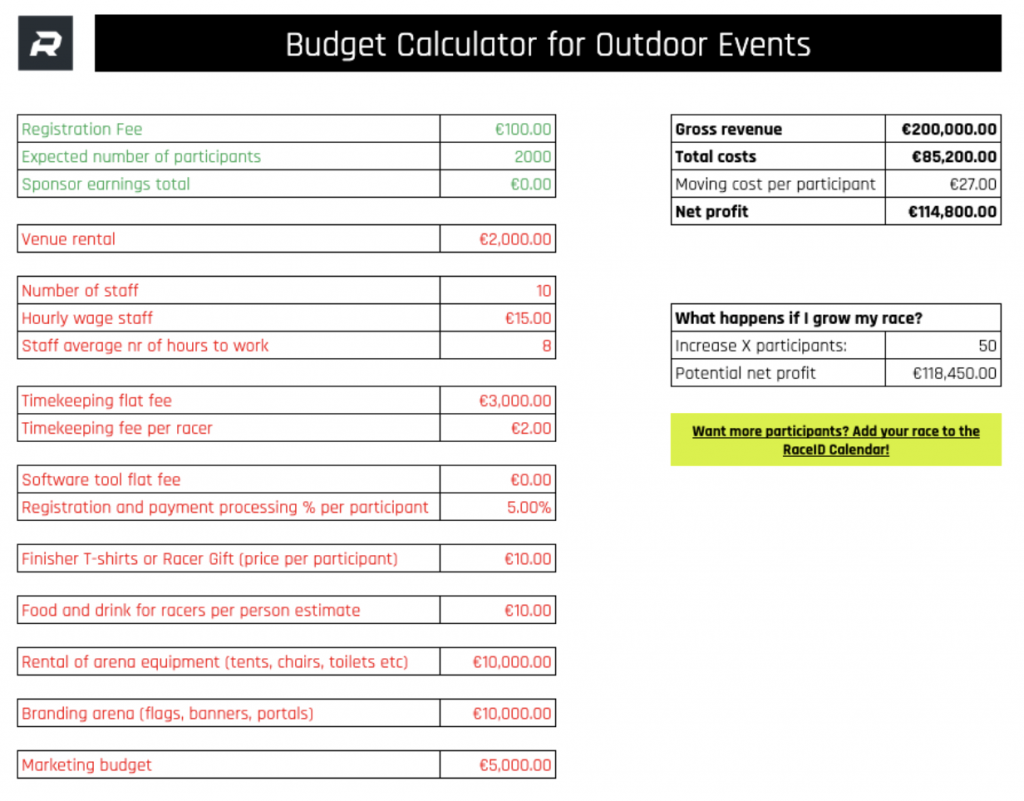 So what are you waiting for? Get started today by downloading the Ultimate Organizer Checklist. Good luck!