40 Crucial Tasks Race Organizers Can't Forget When Planning a Race
The Complete Organizer Checklist – Free Download
The Ultimate Organizer Checklist - What You Need to Know to Plan a Successful Endurance Event
New organizer? Or perhaps you are an experienced event manager, but want to make sure everything is on track? This checklist helps you make sure you don't miss a thing in your race preparation. The Checklist Includes:
Timeline so you know when you need to start and when to do what



Things you need to do

before

the race:

permits, budget and suppliers



Planning the race day:

hiring volunteers, arena set up and timing



Steps for

marketing your race to get more participants


How to get the most out of race day and make participants excited


PS. After downloading, make sure you read the accompanying Blog Post for more details on each point (there will be a link to that page in the email also).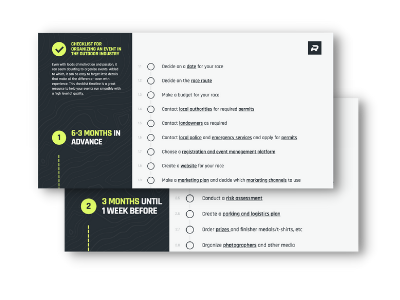 See what boxes you already can tick off. Fill out your contact info below, and we will email you a free copy of the Checklist: