Which Races Can I Use The RaceID Timing App For?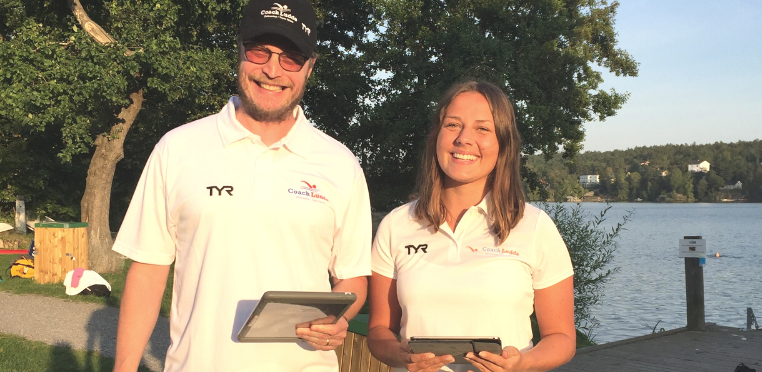 As a RaceID organizer, you have various options when it comes to timing your race. One of these is to use our Timing App which is seamlessly connected to your registration and race within the RaceID Admin management system. You can read more about the Timing App here, and explore whether App or Chip timing is most suitable for your race in this article. 
We get many questions about what types of races and sports are suitable for app timing. An important aspect to note is that app timing requires involvement from yourself and your team, as it is a self-service tool, and you time the race yourselves. You have to train your team and make sure everyone understands the app functionality ahead of your race to make sure the timing goes smoothly. But don't worry, the timing app is easy and intuitive, and we have multiple guides, videos and tools to help you and your team learn about it. You will be an expert in no time! 
Certain types of races are more suitable for app timing than others. The two major variables are the duration of the race and how many participants you have. The more participants get spread out over the course, the easier the app is to use, as you have time to catch participants at the finish line. The most challenging part of Timing App use is to catch clusters of participants that cross the finish line at the same time. Below, we give some recommendations for various sports and types of races. 
Running Races
App Timing Suitability: Medium/High 
We see a large number of our organizers use the app for running races. Usually, running races are easy to manage with the app, because you can have a clear view of the finish line and the racers' bib numbers. Especially for road running races, you usually have plenty of space at the finish line and no obstructions of visibility. 
The key is that the race is long enough for participants to spread out, or that you have a low-ish number of participants. For road races, we usually recommend not more than 150 racers for a 5-km race and not more than 300 for a 10-km race. Trail races, on the other hand, can possibly get away with using the app with a higher number of participants, as the slower average speed due to the trail and/or steep hills often spread out the field more.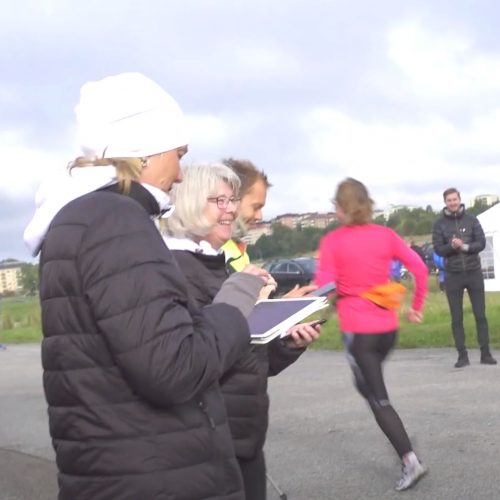 Cycling Races
App Timing Suitability: Low 
Cycling races can be tricky to use with the timing app. The reason for this is that cycling is a fast sport and you usually see clusters of cyclists crossing the finish line at almost the same time. It can be difficult to catch them in the app in the right order of finish or distinguish participants within tenths of a second. 
We do not recommend using the app for road biking races for this reason (unless they are very very long and you have very few racers). Other cycling disciplines such as Mountainbike however, can sometimes use the app successfully since these races, on average, are not as fast and the field can spread out more due to the technicality and narrowness of the course. 
Ultra Races
App Timing Suitability: High 
All kinds of Ultra races are ideal for timing with an app. These races usually have fewer participants in general, and they are spread out over a very long course. You can usually be successful with app timing for a greater number of participants as well, for this reason.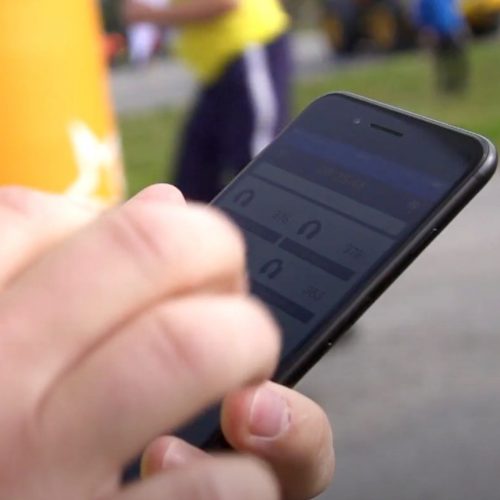 Backyard Ultra Races
App timing Suitability: Low
We do not necessarily recommend using the app for Backyard Ultra races, because it can be hard to configure lap times as split times in the app. The app does currently not support lap times in the way necessary for Backyard Ultras, and our results pages can only show results based on one finish time. In a Backyard Ultra, you usually want to measure the result as "number of laps" in one view so you can compare and see how many laps each participant has completed and get a sorted result list based on that. 
You are more than welcome to use RaceID for registration and participant management though! Many backyard Ultra Races do this and use a manual method for timing and counting laps. 
Triathlons, Duathlons & Aquathlons
App Timing Suitability: Medium 
We have some races using the timing app for Triathlons, and it generally goes well if there are not too many participants. Here again, you have the problem with the cycling leading to groups, and especially at the transition between bike and run, clusters of participants can be hard to catch, process and time properly. The swim to bike is usually not a problem, as the field is often spread out enough at this point, despite it being early in the race. 
It can be tricky with transition splits. If you want to record T1 and T2 times, there is usually a quick turnaround of split times. A trick we have seen triathlon organizers employ is to make the transition section slightly longer than usual. Then, split-time marshalls have a greater chance of catching all the racers as they run into and out of transition. 
Dualthlons and Aquathlons are more suitable since it only involves one switch of sports.
OCR (Obstacle Course Racing)
App Timing Suitability: Medium/High
OCR races can use similar recommendations as trail running races. Here again, it depends on the number of participants, the length of the race, and ultimately, the degree to which racers spread out or not. 
Open Water Swimming 
App Timing Suitability: High
Several RaceID races use the timing app for Open Water Swimming. As swimming is a slower-pace sport, you will have time to catch the racers as they cross the finish line and the field usually spreads out quite neatly 
You will, however, need to prepare and adapt the finish line and numbering of competitors. There are a number of ways you can do this. Either, you administer the finish line like a pool swimming finish, where racers have to touch a wall or dock with their hand. You need to make sure your timers can stand above or behind it to clearly see the swimmers' hands as they touch the finish line. You will also need to use a tattoo or marker to mark each swimmer's hand with their start number.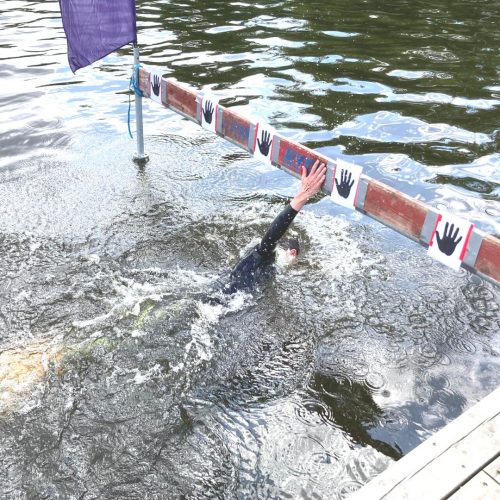 The second option is for you to organize a running finish. This is ideal if you have a beach to place the finish line on. You can then let swimmers swim to the beach and run up to your finish line. At this point, you should be able to easily see start numbers on swim caps. If you want to make recognition even easier, you can also make swimmers touch a table or wall when they arrive out of the water to mark their finish. 
Another final method is to have the finish line in the water – between a pair of buoys for instance. For this to work, organizers often have the finish timer with a waterproof tablet on a stand-up paddle board. Or, some races employ a 'spotter' in the water at the finish line who can spot race numbers and shout to a land-based app timer. The latter tends to introduce a little more human error, but can be effective with a trained team.
Get more tips and see how organizers use the app for swimming races.
Swimrun Races
App Timing Suitability: High
As Swimrun races combine trail running and swimming, these races usually have a well-spread-out field, often along a longer course. We recommend that you can use the app for almost any kind of Swimrun race without difficulty. Make sure you place the split times along the running sections to be able to catch the racers easily. Use a vest-type bib in combination with a numbered swim cap and you'll always be able to identify racers and teams. 
Multisport & Adventure Races
App Timing Suitability: High
Multisport and adventure races, similar to Ultra running races, usually have few participants spread out over long courses. The Timing App is ideal for these types of races. Not only does it save a lot of money compared to locating chip-timing equipment across kilometers and kilometers of land.
Summary: Who Is The Timing App For? 
Our advice; take a look at your race setup and estimate how many participants you can expect simultaneously through any checkpoints and the finish. If it's a low number, it is safe to use app timing. 
Again, remember, another important thing is that you learn how to use the app comfortably before race day. Practice makes perfect!
For a comparison of app timing and chip timing, check this video with Hector and Fanny: