5 Best Registration Tools For International Races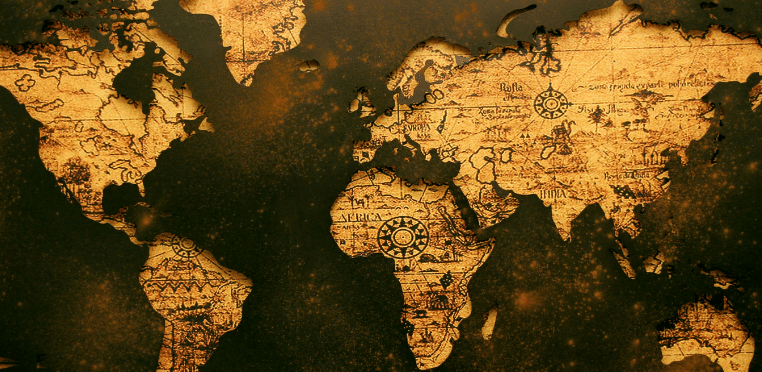 Are you the race director of a large race series or cup, spanning several countries, or even continents? I bet you are battling customer support in various languages, questioning which currencies you should process payments in, and dealing with logistics plans, vendors and third parties in several countries. 
The international aspect can be challenging from an organizer's perspective. But as an athlete, traveling for races is one of the best things I know. Swimming and Swimrun races have taken me places I would have never gone otherwise, and I've had some of my best race experiences abroad. As sports vacations and traveling is becoming more and more popular, organizing destination and international race series is definitely a race business idea for the future, especially when we get out of the pandemic and recession. 
There are certainly a handful of unique challenges to operating races in several countries. One of those is to find a registration and race management tool that fulfills all your unique needs like processing payments in various currencies and listing registration in several languages. This article lists our top 5 tools to use as an international race organizer. 
Active
Price: $.99 + 2.9% + transaction fees
Website: active.com
Advantages: Active is one of the most internationally widespread registration and race management platforms out there. They offer you a robust system with (most likely) all the features you need to manage an international cup. You can set up your event in a choice of currencies and you can add information and communication in various languages on your race page. 
Disadvantages: Active's registration pages are covered with advertising, both from third parties and their own promotions. It can be a quite an unpleasant experience for participants. Perhaps there is an option to remove it. We also found it quite difficult to operate the administration system, especially logging in and creating an account as it required a few tries to get it to work. Active doesn't offer much personal support if you get in trouble and the price is on the higher end at $.99 + 2.9% + transaction fees, which adds up to about 6% total when someone pays with a credit card.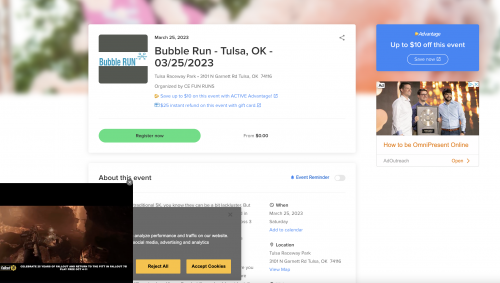 Example of an Active.com Race Page
Chronotrack
Price: Quote only
Website: chronotrack.com
Advantages: With Chronotrack, almost all of your international athletes can register in their own language. Several countries and languages can be chosen in a drop-down list. In terms of administration features, they offer you everything from start to finish as they are also a timing company and can rent you RFID timing hardware. It can definitely be advantageous to have all your data collected in one and the same system.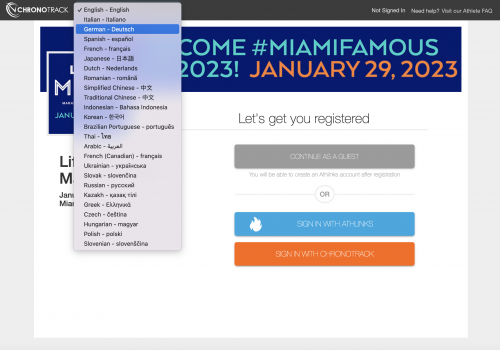 Example of participant account sign up at Chronotrack.
Disadvantages: Chronotrack does not offer any pricing on their website and does not have a login to test the system, so the investigation we could do has been limited. It is common however for timing companies to offer an all-inclusive package where both timing and registration are covered. This is obviously costly, and the registration service can seem a bit 'tacked on' when working with providers that specialize in timing.
RaceResult
Price: Quote Only
Website: raceresult.com
Advantages: German-based RaceResult is one of the most prominent and renowned timing hardware providers in the world. The registration and race management system they have built to fit their timing hardware is filled with smart features and seamlessly connected to the system. As a participant, you can choose between several languages when you register and the events are configurable in various languages and currencies. 
Disadvantages: the pricing is not listed online but is usually sold as a package with both timing and registration all in one. Since RaceResult is mainly focused on providing an exceptional timing service, its registration tool is perhaps not the priority feature of the company. Although it is a thorough tool that works very well, anecdotally customers that have used the admin system in the past say it's quite complicated to work with.
Njuko
Price: Quote only (prices start from €0.25 per registration)
Website: njuko.com
Advantages: Njuko offers a robust modular system where you can choose one main language for each event edition, plus unlimited additional languages. You then edit those languages side by side inside the tool when you set up your event. You are able to choose which currency to process payment in for each event edition. A neat thing is that they allow you to connect your own payment gateway if you would like, and that reduces their platform fees (but you would have to pay the transaction fees you owe your own payment provider). They are the industry's first API centric modular platform meaning you are essentially building your ideal registration platform within their environment by choosing the features that best suit you. You pay according to how complex your needs are and which modules you choose.
Disadvantages: is a French company, and that shines through at times. For example, you may need to support with some translations that are default French or English for your language, but don't' let this disturb you – all information is available in several languages at the click of a switch. The administration tool is highly functional but lacks some supportive documentation and needs improvement in terms of user-friendliness or guides. The pricing of their modules, etc is not available on their website, you need to contact them directly for a quote.
RaceID
Price: €0.5 + 5%
Website: organizer.raceid.com
PS. As we at RaceID are writing this article, we have tried to keep this review as unbiased as possible! But feel free to check out the system for yourself by creating an account, to make up your mind and make your own opinion. 
Advantages: RaceID offers you to process payments in the currency you choose per race. It is also possible to configure up to 8 languages for your race page and confirmation email communication – participants can register smoothly through the web or app in their preferred language and can use local payment methods. The RaceID App and community is also the place where your race can be discovered by new participants, a useful built-in marketing benefit.
Disadvantages: At the moment, RaceID only offers metric measurements but we are on track to add the imperial units as well. The participant base in the RaceID community is mainly composed of Scandinavian athletes at the moment, but as we grow that will spread globally. You can read more about why or why not RaceID fits your race.
Additional Options
During our market analysis of international providers, there were not many that offered full language and currency support. The ones you have read about above were the few that made the cut. A few more to explore as options are: Si Entries, which also offers language support and Sportsmaniacs or Red Podium which both allow you to process payments in various currencies. 
If you need more options and don't mind just listing your registration in English, check out the full list of European and American providers.