Why Race Organisers Should Care About Reviews – Expert Tips from Racecheck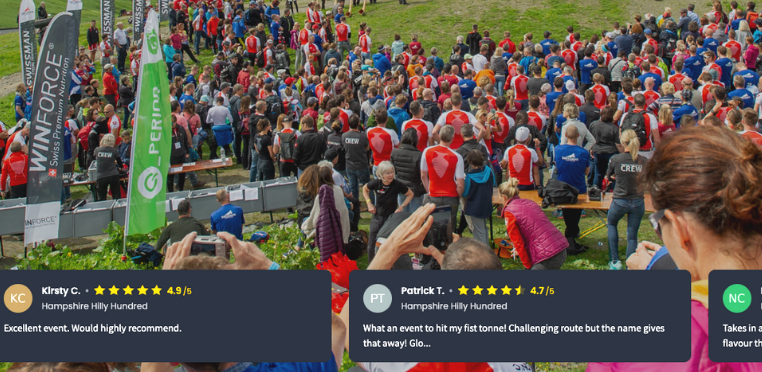 Today we share expert tips on why Reviews are important for your race, and how you can take advantage of them to market your race. Alexandros Tanti, CEO and Co-Founder of Racecheck, is our guest blogger for the day and will give you his best tips collected from years of experience with review marketing: 
Let's cut to the chase. Real reviews from an independent platform are the most authentic and powerful tool for establishing a positive race reputation. When we asked 100 Racecheck contributors to share their reasons for leaving reviews, 87% said it was to help others with their race choices and 75% said it was because they want to give feedback on a positive experience. It's simple — not utilizing reviews means you will be missing out on a great chunk of positive reinforcement for your race.
Independent Feedback From Participants Matters 
You can write your own marketing material, of course. And you should. But when you start really selling your race and the experience, and the language ramps up, ask yourself — is it believable? Is it genuine or does it feel contrived? Growing a race and attracting new sales is hard. This is where the opinions and the stories of people who have finished your race before matter most. Reviews are real and, importantly, disconnected from you so the words are more compelling for the reader. Reviews back up your own marketing copy and are a level of authenticity that you can't create yourself.
Justify Your Prices with Reviews
Budgeting and planning for a race is a complex process. By the time you've accounted for all outgoings and left room to (hopefully) turn a profit, it can all lead to an entry price that raises the odd eyebrow. Most people don't know what goes on behind the scenes of a race and you haven't got the time or energy to explain to everyone why your race costs what it does. You should feel confident in the price you reach, without having to adopt a defensive mindset should people question it. Reviews are a great way to subtly justify your price through positive feedback from race finishers. Reviews do a great job of selling the features of your race for you.
Credibility Attracts Sponsors to Your Race
Brands and sponsors want to be associated with well-organised races that align with their own values. Being able to qualify your credibility through great ratings and reviews is a powerful tool for attracting race partners. "Hey, don't just take our word for it, look at all these happy reviews from the last edition of the race".
Help Project Quality on Your Race
Rolling straight on from credibility is the notion of projecting quality. Rather than just your own lone voice calling out about your race, reviews are many voices projecting the experience you offer. More voices reach further and shout louder. More voices are a stamp of approval and a marker of quality. These are the things that people look for and help to establish your race more quickly. Reviews accelerate the promotion of your race, helping it to stay at the forethought of previous participants and enhancing its visibility to newcomers.
SEO is Important, and Reviews Help
Search Engine Optimisation is a term that gets bandied around a lot, always touted as a core aim for any business. It's important for your races as well. Consider someone typing the words "summer half marathon" into Google. As the organiser of a half marathon, you'd want that person to find your race. Google will quickly assess how well your website aligns with this search and rank you in terms of relevance with all the other websites. The more you can do to make your website appealing to key search terms, the closer to the top of the search results your website will appear. This means more website visitors and, ultimately, more sales.
Racecheck reviews are hosted on your event pages so they enhance your SEO by increasing the number of keywords associated with your website. Every story that a finisher writes about your race benefits your website visibility. The more stories, the better the results.
But there's one important SEO more thing…When you start collecting reviews for your event, Google acknowledges this and pulls your ratings into the search results. These are called Rich Snippets. Straight from the search results, your race is given a leg-up to stand out above the competition. So before even reaching your website and before reading any reviews, potential participants are being primed about your race.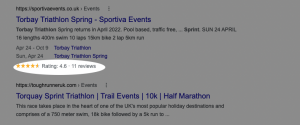 For more SEO Tips for your race website, read this post.
Use Race Reviews for Social Media Content
Great reviews are the perfect testimonials. Being able to share them immediately with your social media communities is a powerful tool. Not only do reviews make for great content, but it also shows that you are reading and acknowledging feedback, which is good for rapport. Race organisers who continue to be active, share updates and post content will be respected.
Underpinning all of these points is the concept of social proof. In other words, the decision to purchase a race entry can be positively influenced by the stories and ratings of those who have raced before. With purse strings being tightened, people will be comforted in knowing that a race is good value for money and less of a risk. As we have suggested before, the more information you can make available on your website, the fewer people will be inclined to navigate away so you capture the purchase. Reviews help you convert more visitors into sales. Keep more of the margin for yourself, rather than lose a sale (and pay a costly commission) to an event listing website.
This concept is more important when supporting new customers with their race research. Where there is uncertainty or lack of knowledge a potential participant is more likely to lean on the information held within reviews to inform their decision-making.
Check out Racecheck for more info on how you can use the platform to leverage participant reviews for your race.