How to Promote Your Outdoor Event on Instagram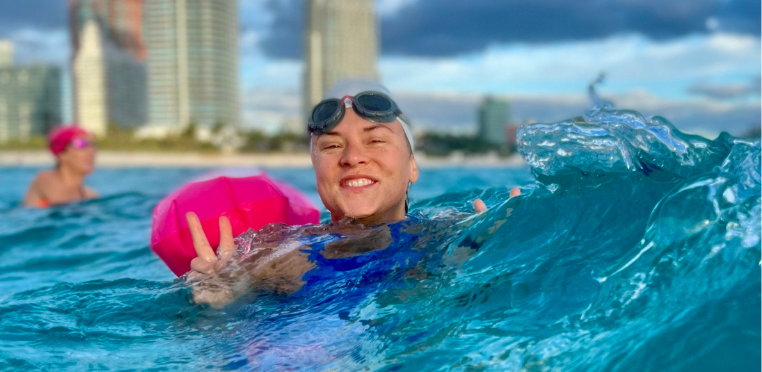 As a person that is deep into the endurance race community, both professionally and personally, I do follow quite a lot of instagram accounts that are either race organizers or in other ways active in the industry. I had a thought about what I like to see, and have broken it down into a few useful instagram marketing tips that can get your creative juices flowing.  
You might ask yourself, is Instagram an important channel for me? I believe you have some participants to catch, as it is one of the most popular social media platforms out there and is gaining an audience that is quite synonymous with the ages we see at endurance races – 32% of instagram users are aged between 25 and 34 years. Facebook is still larger, but Instagram offers you a slightly different and more visual focus on the content which can be to your advantage. If you are still not convinced, ponder the fact that 2.3 billion people scroll through that Instagram app every month. 
Nail your Instagram Bio
First of all, consider a separate instagram account for only your race, or a unified one if you run a cup. Update it to a Business account (you do this under settings, and scroll all the way down). This will allow you to access more analytics tools straight in the app so you can keep track of your performance. Then; 
Put your website or registration link in your bio

Write an exciting bio text for your race. Include emojis of your sport! 

Add some "highlights" – permanent instagram stories that can always be featured on your profile 
Instagram feed posts and content for outdoor events 
The most important, for any business account really, is to keep a balance. Don't write "register now" on every picture and in every caption. There are many other ways you can inspire participants and post content that they will like, for example: 
Post images from past editions

Video: try to make at least one highlight video of your race. Ask your videographer for several formats (horizontal, vertical and square). You can post videos in your feed that are up to 60 seconds – if it is longer than that, post it as an Instagram TV post! 

Nature / course stunning landscape – as a swimmer, I am a total sucker for pictures of cool pools and oceans, lakes and rivers 😀 Check this post out from ÖTILLÖ, isn't that course just stunning? 
Use Your racers! Interviews, quotes, clips of post-race talks. As racers, we love to hear strategies, reviews and comments from potential competitors! 

Share how you work with sustainability. I love to see how some races help the environment and the local community. Here is a great example from Ångaloppet: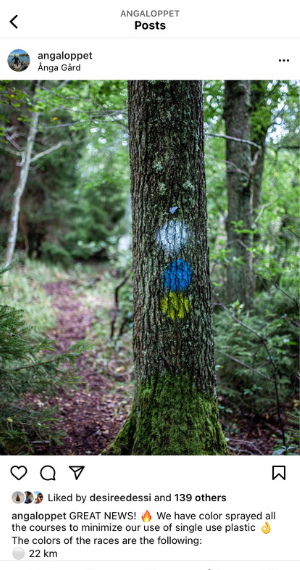 Some additional tips, to make your feed look stellar: use the same filter for all photos and don't post landscape pictures – crop to vertical or square – you get up to 3X more digital real estate vs a typical horizontal ratio! 
Instagram Stories – a must-use channel
Stories are fast content that is only available for 24 hours and show up as a video sequence when someone clicks on your circular profile picture.It is a very popular way to engage in content – I know friends that essentially only watch stories and reels on instagram – so use it efficiently! Try to keep something new in your story at least every other day. Every time you add a new story, your profile picture will appear on the top of the feed when people log in – free visibility! Here are a few more tips to get the most out of your stories:
Use links in stories (now it is not limited anymore to 10,000 followers+, anyone can add a link!)

Share the race prep! Don't forget to snap some images when you are out marking the course or having inventory of medals or merchandise. Sneak peaks on this are always interesting for participants. 

Use Countdowns for your race registration, early birds and your race date 

Use interactive content: fun polls, let participants ask questions that you then post the answers to – great content for a permanent highlight on your profile that will save you some support emails 😉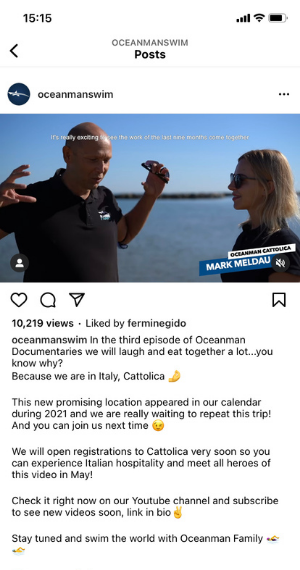 Example of Oceanman showing behind the scenes content of how they set up the course. 
Hashtags – how and when to use them for your race posts
Hashtags allow you to be found by search terms on Instagram, and also allows you to organize and keep track of posts related to your brand. 
For yourself: create a unique hashtag for your race that you encourage pole to use (make sure it is not a not taken one / just search for it and see if there are any posts yet). Then you can nicely collect all the posts people make and reuse them. See how Rockman does it with #alongthepathofalegend: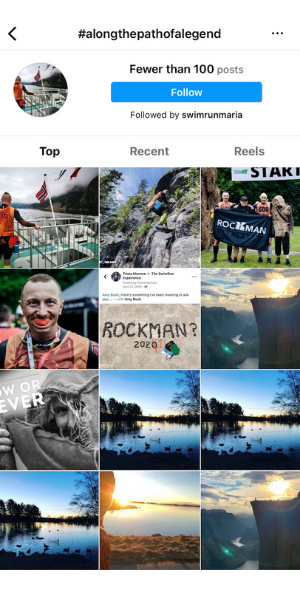 In feed posts: use industry and brand hashtags in your post. Just make a list and copy/paste it below your post text. 
Add Hashtags in stories: you can hide them by either making them super super small, or making them the same color as the background/photo. You can add up to 10. 
Reels – what is this and how do you make one? 
Reels are probably the greatest way to be discovered on instagram. It is a Tiktok-inspired feature that has its own tab in the app. What you see in that tab, are random short videos with music created by people. It does not have to be people you follow (it is based on the mysterious Instagram algorithm), which also means that you can publish reels and get shown to other people that didn't know your race existed. 
How to make a reel: 
It is not that hard to get started. Select (vertical!) clips and put together a series of small videos (or just one), then add music provided by instagram directly. Choose songs that are popular, to get more reach for your reel. 
Topics that work great on reels:

Tutorials (think of what you need to do to prep for your race in your sport) 

Scenery – little clips of your race course – very important that it is vertical format!

Fun bloopers or other cheesy eye-catching clips 
Use Content from your Participants
We are all busy with other more important things, and sometimes it is easy that social media gets pushed way down the priority list. Then it is good to get some free content! Encourage your racers to use your hashtag and tag you – then you can simply repost in stories and voila – you have a bunch of content that almost cost you no time to create or post. 
The time to keep an eye out for content is right before the race, especially the night before, when everyone posts their prep pics (you know, with their equipment neatly laid out to declare that they are ready – and most likely a little nervous!). Also keep an eye out for people sharing their results and when they sign up to the race. 
Make social media easier with organization and structure
Make it a million bucks easier for yourself by signing up for a content planner. You can try one of these for example: Planoly, Later or Hootsuite. Some versions are free – but all allows you to plan and schedule your posts easily from your computer so you can batch-create content. You can also do social listening, get notifications when people write to you, and reply to all messages from one place. 
Hope that was helpful! Let me know if you have any questions, and feel free to follow me (@fannyfromswe) and RaceID (@raceid_organizer or @raceid) on Instagram! 
/Fanny Kuhn at RaceID
Post updated 21 August 2023