What Is a Fair Refund Policy For My Race?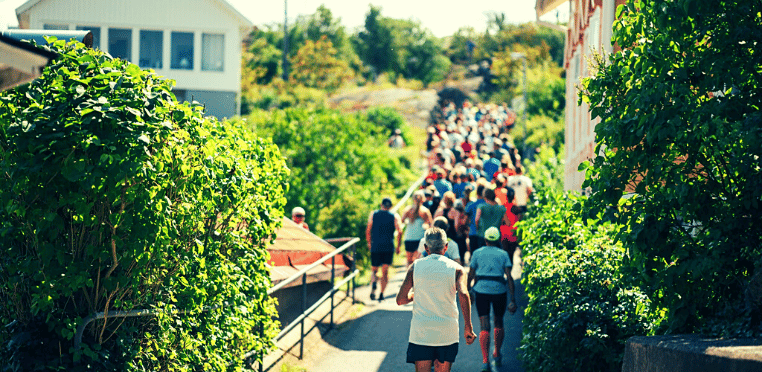 Refund policies are an important aspect of event planning, as they affect both event organizers and participants. In this article, we will discuss what a fair refund policy looks like for event organizers, and whether there are any differences in refund policies between different types of endurance races such as Triathlons, Road Marathons, Obstacle Course Races (OCR), Trail Races and Open Water Swims.
Now, more than ever, it is important to look over your refund policy and terms. After the pandemic when many races were forced to cancel, participants have become even more aware and attentive regarding policies and terms to ensure that they can sign up safely, flexibly and feel secure in their purchase. 
What is a Refund Policy?
A refund policy is a set of rules and guidelines established by an event organizer to determine how refunds will be handled. Refund policies can vary widely depending on the type of event, the cost of admission, and the individual organizer's preferences. Some organizers might have a no-refunds policy, while others might offer partial or full refunds under certain conditions.
The refund policy is usually stated in the terms & conditions of your race, which participants accept when they register. If you don't have a terms & conditions policy, we highly suggest you write one and publish it on your website and link it from your registration page! 
Why Have a Refund Policy?
A refund policy is one of the ways for you as an event organizer to manage your risk and protect against potential losses. As race participants ourselves we also think that it's a great way to build trust and credibility. Additionally, when participants know that they can get their money back if something unexpected happens, they are more likely to feel confident in registering for your event, and will do so earlier too.
So What Makes a Fair Refund Policy?
We think that a fair refund policy is both clear and concise, easy to understand, and above all – reasonable. Participants should be able to understand the policy and its terms before registering for your race and deserve some protection against unforeseen circumstances.. Then of course, the other side of the policy should take into account your needs as the race organizer. You'll need to protect yourself against potential losses, if you're forced to cancel.
A fair refund policy should have clear guidelines for when refunds will be offered and how much of a refund participants can expect to receive. Refund policies should also mention the timing of any refund. For example, if an event must be canceled due to unforeseen circumstances, participants may expect to receive a full refund if the cancellation occurs well in advance of the event. If the cancellation occurs closer to the event, participants may expect only a partial refund.
As event organizers you'll need to have a policy that strikes a balance between protecting yourself against your potential financial and reputation loss while providing your participants with reasonable protection against cancelation. As mentioned above, refund policies for events should include these basic guidelines:
A clear statement of whether refunds will be offered or not.

The timeline for refund requests.

Any applicable fees associated with refunds (such as processing fees or administrative fees).

The amount of the refund, if any, that participants can expect to receive.

The conditions under which refunds will be issued (such as event cancellation, injury or illness, or other unforeseen circumstances).
Note: to help manage expectations and prevent misunderstandings it is important that you clearly communicate your refund policy to potential participants before registration.
Note that most refund policies deal with force majeure events that implies the cancellation or postponement of the entire event. While it is nice to offer refunds if individual racers get sick or injured, this is something that participants can get their own coverage for by signing up for athlete insurance (like Refundable Booking). Another way to offer an alternative, is to let racers transfer their registration to a friend up until a certain date before the event.
Is there a Difference in Refund Policies for Different Types of Races?
The refund policies of your race may vary depending on the specific nature of your event. For example, some races and sport types are typically longer and/or more physically demanding than others. As such, participants in these events may be more likely to experience injuries or other physical setbacks that prevent them from competing.
In general, the refund policies for high ticket value races (such as triathlons, OCR and road marathons) may be more strict than for local trail races or district track meets. This is because the higher registration fee races generally have more logistical challenges associated with them. As such, organizers of these types of races may be less willing to offer refunds to their participants who cannot participate for some reason.
Cheaper and smaller races therefore may be more lenient in their refund policies, as they are often less expensive and less complex to organize. These events may be more likely to offer partial refunds or deferrals to participants who cannot compete due to unforeseen circumstances.
Conclusion
In summary, if you can manage to strike the balance between protecting yourself against potential losses while providing participants with reasonable protection then you'll arrive at a fair refund policy. Remember, refund policies should always be clear, concise and easy to understand – with clear guidelines for when refunds will be offered and how much refund participants can expect to receive. Event organizers should communicate their refund policy clearly to participants before registration to manage expectations and prevent misunderstandings. Take into account any fees you might incur from other sources as well – your registration platform will have a policy if they are doing the payment processing for you. Most credit card providers have a fee for repayments, so your registration platform will usually pass this on. Usually, it's around 1-2 euros per repayment transaction (with RaceID we have 1€ per transaction).
While there may be some differences in refund policies for different types of races as mentioned above, the basic guidelines for a fair refund policy remain the same. By establishing a fair refund policy, you will build trust and credibility with your participants, manage risks, and protect yourself against loss, all while creating a positive and enjoyable event experience for everyone involved. Remember, your policy will reflect onto your brand. Make it fair and your race will be all the better for it!
If you need help with your race, don't hesitate to get in touch. We are a team of athletes and race organizers ourselves and love hearing about new races. Book a meeting here.