The 8 Best Timing Apps for Endurance Races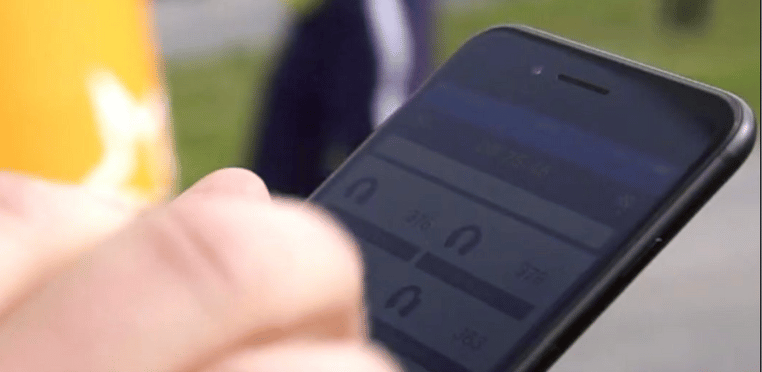 We tested and reviewed the most popular timing applications on the market. 
About Race Timing Applications 
App Timing is a semi-manual way to time an endurance race and is usually suitable for races of a smaller nature (we recommend a maximum of 300 participants but it depends on the sport and the nature of the race). With app timing, you use a handheld device (phone or tablet) and run the entire race timing and operation from there. You start the race, and then tap on racers in the app as they finish to record their finish time and placing. Some apps allow you to add split times, timed in the same way, across the course as well as instant results and live timing. Do you want to find out more and see if app timing is suitable for your race? We give you some good pointers in this article. 
Here though, we list and review the available apps on the market with images, pricing and ease of use after testing each of them. The list we came up with here is ordered after considering the app's price, available functionality and ease of use. 
Although we offer one of the timing apps on the market (RaceID App Timing), our primary goal is to help you find a solution that fits your race and help you create a better experience for your participants. Therefore, we provide you with this review (keeping it as unbiased as we can!)  so you can compare and choose a timing app that suits your race's needs. 
Missing a timing app in this list? Let us know and we will review it and add it! 
1. Webscorer 
Website: https://www.webscorer.com/
App on iOS: https://itunes.apple.com/us/developer/webscorer-inc/id475523302
App on Android: https://play.google.com/store/apps/details?id=com.webscorer.webscorerforandroid
Price: $50 per year for 1 device, $100 per year for 5 devices or Pro (automated timing) for $250 per year.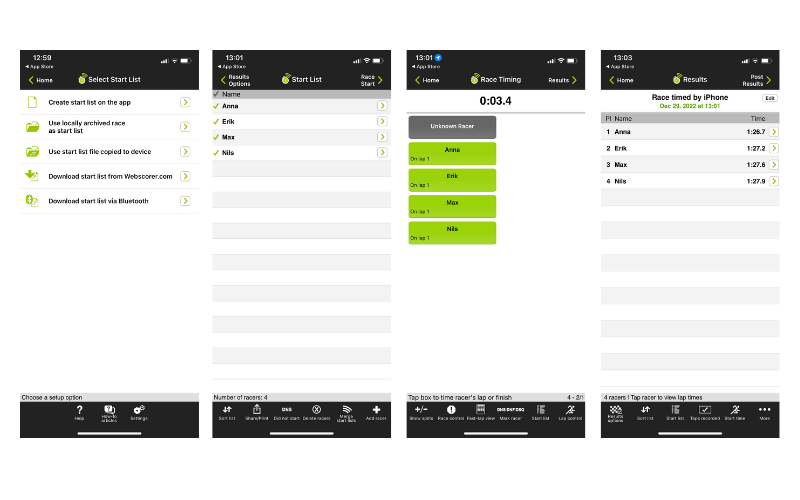 Webscorer is a popular timing app for races in all sports. They work on a subscription basis, so you can time as many races as you want, just that devices are limited depending on which subscription model you choose. In addition to app timing, Webscorer also offers registration and result services.
You can test Webscorer for free, with a race for up to 5 timed participants. It was easy to download the app and get started, you don't even have to create an account. When you start a test race, you can choose how to add a start list by either adding racers straight in-app, uploading a start list from your device or you can import it from your Webscorer registration. Once the race is started, you have a few different views to choose from where you can record racers, all quite easy and straightforward. 
Pros: Webscorer works well and is easy to use. We really like that you can time lap races and count laps, such as Backyard Ultra Races, if you choose this alternative in the settings. It is also great that you can download the app on both phones and laptops. 
Cons: The look of the app is alright, not the prettiest user interface, with quite a lot of text and black/white excel rows for many of the views. But all-in-all, it is very easy to get started and use. If you pay for the cheapest solution, the Pro for $50 per year, you only get to use one device. From our experience, you'll want several devices per race which would require the second option costing $150 per year. 
2. RaceID 
Website: RaceID.com
App on iOS: https://apps.apple.com/us/app/raceid-timing/id1281928187
App on Android: coming soon!
Price: $0.5 per participant (plus you need to use RaceID Registration, see pricing here).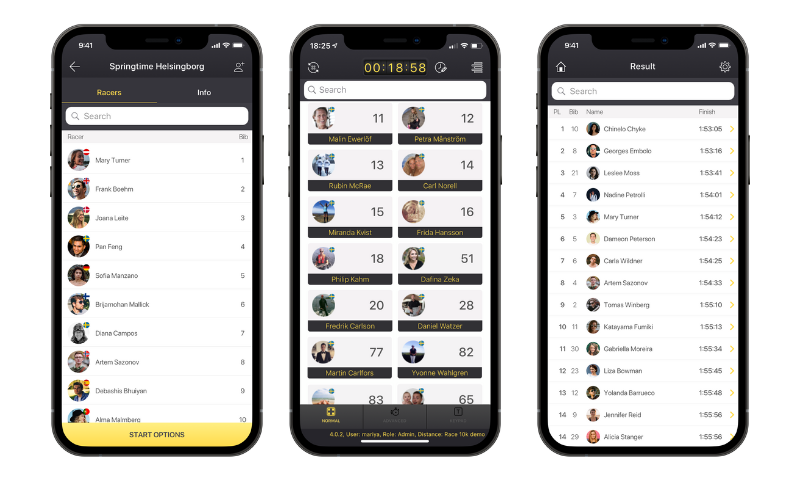 The RaceID App is a smooth timing tool, seamlessly connected to the RaceID admin and registration system. You can time races by simply logging in, and your start list is automatically transferred and updated in real-time with any edits you make through the admin system: set up split times, add timing assistants with individual logins and more. In the app view during the race, you can choose between 3 views to view bib-numbers and results depending on how many participants you have.
As an added bonus, the RaceID app allows you to add and experiment with automatic GPS timing – a new way to time races based on only GPS control zones from an uploaded .gpx file. This method requires improvements and better precision in GPS technology to work at its best (depending on location), but you can already experiment with it alongside your regular app timing if you would like. 
Pros: purposeful design and user interface. In case of bad reception, results are saved on the main device for later upload once a stable connection is reached. No upfront cost, as you only pay per participant after the race. You can add personalized logins to your timing assistants and assign certain split points to each assistant. 
Cons: not yet available for Android phones and it is not ideal for timing lap-based races where you need to count laps (e.g Backyard Ultra's, etc). 
3. Raceclocker
Website: https://www.raceclocker.com
No downloadable app available, accessed by browser.
Price: Essentials plan for $59.90 per year, premium plan for $179.90 per year. You can test the app free for up to 10 participants.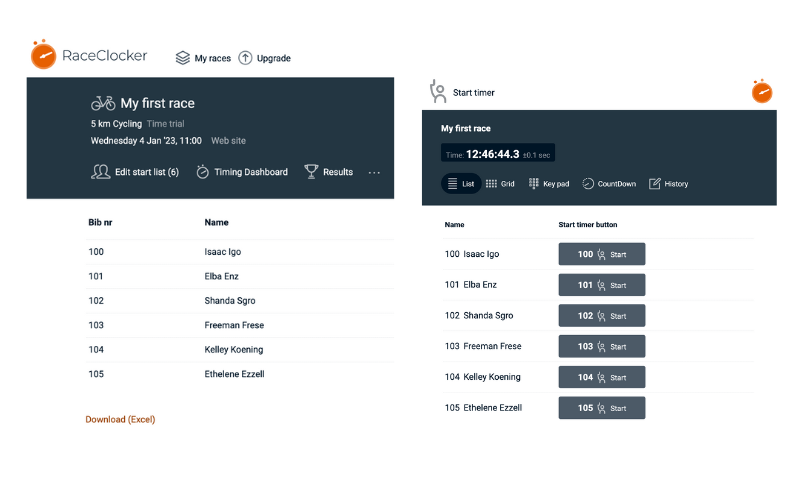 RaceClocker is a do-it-yourself tool for manual timing of sports races. It is not an app per se, but rather a laptop-based tool to take care of manual timing. The race is set up and managed on the timing dashboard on a computer, and then you have to share links to timers in the field. Your timing assistants then use their smartphone or tablet browser to access the timing dashboard via the link. As soon as the timer app is loaded in the browser all data is buffered even if the connection is unstable, and as soon as connection is back it syncs in the background with the server again so you don't lose any information. 
It is fairly easy to set up a start list (which you do straight in the admin tool) as well as split times. The user interface is pleasant and functions seem to work properly without any disruptions. 
Pros: there is a completely free option if you want to use the app for a maximum of 10 racers. It is easy to use and can be used both for time trials and races. 
Cons: There is no dedicated app, so timers have to always use the browser of their device. 
4. RaceTime
Website: https://racetime.app
App on iOS: https://apps.apple.com/app/race-timing-events/id1543541303?utm_source%3Dracetime.app
App on Android: https://play.google.com/store/apps/details?id=app.racetime&utm_source%3Dracetime.app
Price: Free for up to 10 racers, $3.99 for a month, $12.99 per year or $59.99 for a lifetime subscription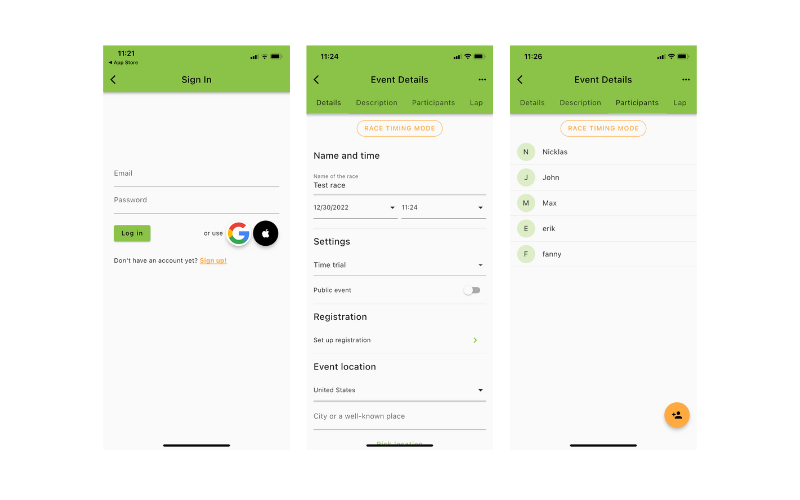 RaceTime is a manual race timing system for organizers with unlimited multi-device timing and live results. Manual and online registration is also available. 
It is easy to download the app and log in, and it's similarly easy with the web-based version of this tool. You go through a few steps to set up the event and add participants manually in-app. It is mandatory to add categories in the race, which was harder to figure out and took some time. We could not figure out how to start the race though after several attempts, and could not find any help or support articles or tutorials on the website, unfortunately… It is perhaps the case that you need to get in touch with their support or sales team to get your race 'activated' beforehand (we did not investigate further). 
Pros: cheap solution at only $12.99 per year or $3.99 for a month.
Cons: hard to operate the tool in the app, and difficult to start a race. 
5. RaceSplitter
Website: https://www.racesplitter.com
App on iOS: https://apps.apple.com/us/app/racesplitter-race-timer/id414675226
Price: $44.99 (one-time purchase in the App store)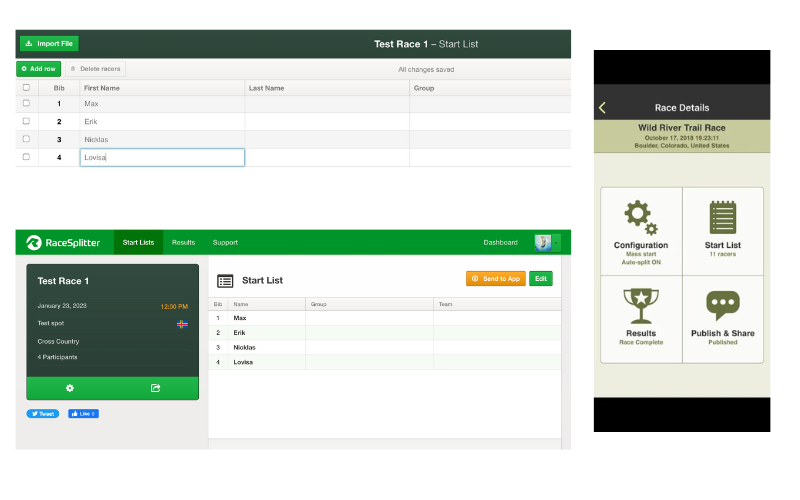 RaceSplitter is a "do it yourself" solution for race timing. They provide coaches with accurate split times, lap times and standings during races, and organizers with the app timing alternative.
It is easy to create an account and access the dashboard of the desktop admin tool. The tool greets you with a welcome message and guides you to a support library where you can find all kinds of information and help to get started, very useful. You complete the setup by writing your start list out, almost like in an online excel sheet, and then you can send it to your email for uploading into the app – it's a few steps, that would be much faster if it was automatic, but not so difficult. 
Pros: it is easy to get started and create an account, but we did not purchase the entire app for this test so we cannot evaluate exactly how it works inside the app. 
Cons: there is no way to test the app before you actually purchase it in the app store. The reviews in the app store are old and not the greatest, and the last version update was 3 years ago… The app is only available on iOS, there's no Android version. 
6. STS Pro Score
Website: https://www.sportstimingsolutions.co.uk/services/free-race-timing
App on iOS: https://apps.apple.com/za/app/sts-pro-time/id1643729313
App on Android: https://play.google.com/store/apps/details?id=pro.score.timer.pro_score_timer&hl=en&gl=US
Price: Free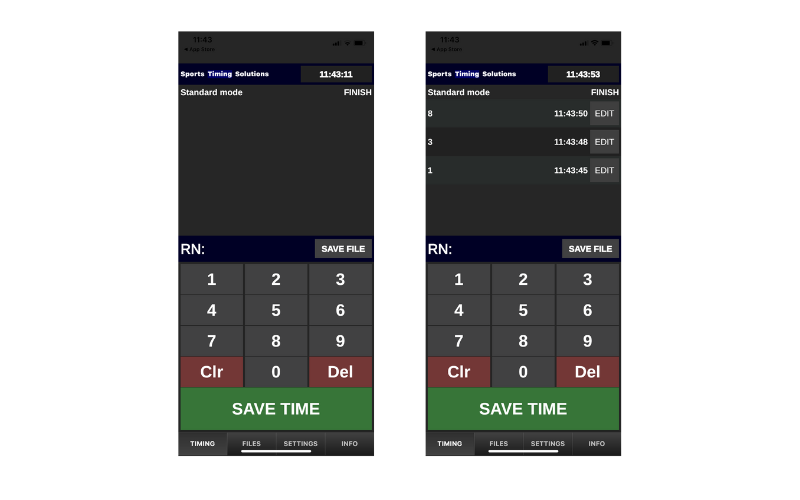 STS Pro Score is a simple to use manual timing system built by Sports Timing Solutions, which is a timing services company selling chip timing solutions as well. They built and offer their timing app free of charge for organizers. 
This timing app is extremely simple. When you download it, you directly enter the interface and see a calculator-looking screen where you can directly enter bib numbers and record times. If you connect the app to your Sports Timing Solutions account via API, there are more ways to use it – it is used commonly as a backup timing method for races that are using chip timing as their main method. 
Pros: this app is completely free of charge to use, no matter how many events or participants you need to time.
Cons: the app is perhaps too simple. It lacks features that other timing apps offer straight inside such as adding participants' names and info in start lists, setting up split times and administering various types of starts and distances through multiple devices and timers connected to the same race.
7. RaceGorilla
Website: https://www.racegorilla.com
App on iOS: https://apps.apple.com/app/cloud-timer-sports-timing/id1140246352
App on Android: https://play.google.com/store/apps/details?id=com.sweep6.cloudtimer
Price: €99/year for up to 40 participants and 1 device, €299/year for up to 40 participants and 5 devices, or €39 for one-time events.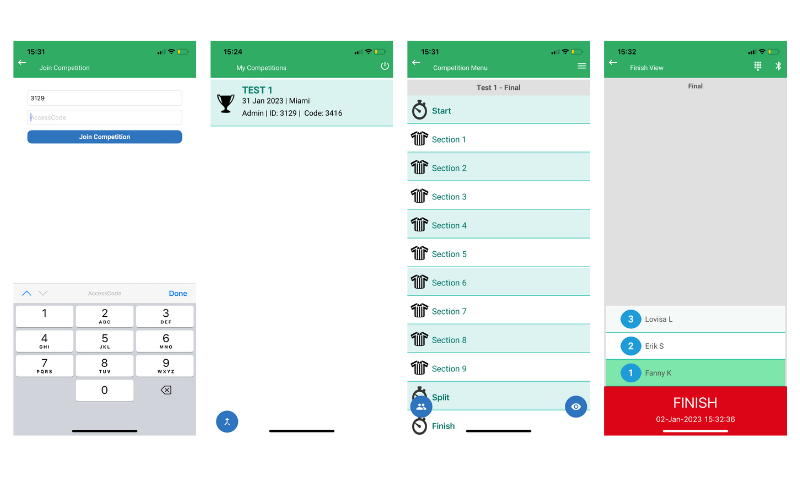 RaceGorilla offers sports timing & live results from your smartphone – timing and live result solutions for trainers, coaches, timing teams and event organizers. You can test the app free for up to 10 participants. 
It was very easy to log in and create an account, as well as set up the first event. You set up the event on your desktop, and then you log in with the same account details in the mobile app. Once in the app, you can easily add your racers straight to the app dashboard. It was quite confusing, however, when logging in to see a list of "sections", even though we did not set up any such sections. It was not intuitively easy to actually start the race. You go into the start screen and start the race, whereafter you navigate to the finish screen and can finish each race. The app shut down on us twice, after trying to validate the results we recorded. Perhaps, we had difficulties because we were testing the app in the demo mode… 
Pros: Flexible pricing for different needs and easy login and handling of the computer admin tool. They also have an extra service called Bluebox for organizers that want to connect photocells and a professional timing clock for further accuracy to your times and results. 
Cons: Handling the actual app was quite difficult. Although it was easy to connect to the race you set up in the admin tool, it was hard to start the race and manage timed racers and their finishes in the different views. The app shut down twice while we tested it and logged us out completely. 
8. Timing.Mobi
Website: https://www.timing.mobi
Price: free for your first event, thereafter $50 for up to 100 racers, $100 up to 250…etc, up to custom pricing for races with more than 1000 participants.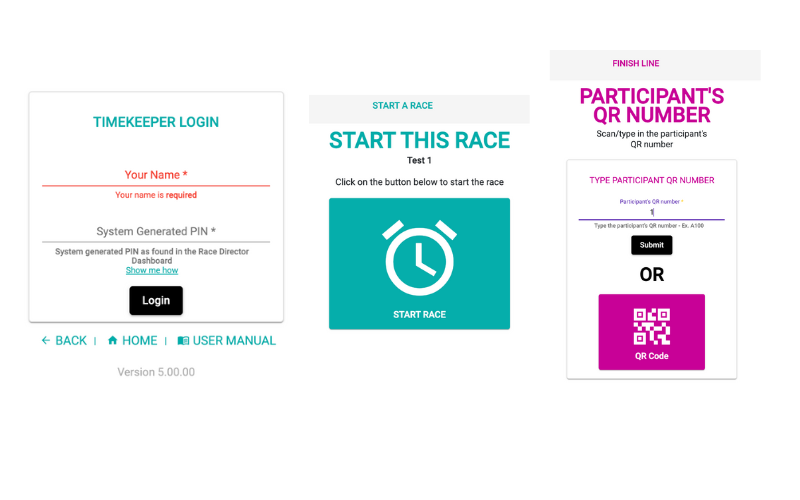 Timing Mobi is a timing "app" focused especially on trail running races. The app probably works just fine for other types of races as well, but it is definitely marketed toward trail running on the website. You can test-time a first event free of charge, whereafter they charge per tier of a number of participants. 
It is fairly easy to create an account and register as an event organizer. You are guided through a series of steps to set up your event in the desktop admin panel. A fairly large difference from other apps in this review is that you have to upload a start list in excel format – it is not possible to add participants one by one or create a start list in the tool directly. We encountered some difficulties after clicking to view the start list, and had to redo all the intro steps once again, probably due to a bug. 
This system works a bit differently than the other timing apps reviewed. Like RaceSpliter, it is a tool that is operated directly in the web browser. After setting up the race, you get the option to print out QR codes to provide your racers with that they can wear as bib numbers. Then, you log into a new link with a pin to access the actual timing dashboard. The timing dashboard is extremely simple, you need to either type in the participants' number or you can scan their QR code. It is quite confusing, as you can never see a list of all your participants while timing, and you have to go to another link to see your results. 
Pros: easy to create an account and set up the race. Innovative use of QR codes if that is something you would like to use for your race. 
Cons: complicated timing process to manage and very difficult to get any kind of overview of your participants or race as a whole. Not available as a downloadable app, only a link in your smartphone or laptop web browser – even though results are stored locally first you are reliant on an internet connection to view any kind of times or results. There is no way to edit times in the timing view either. 
We hope this list and review were helpful! As you can see, 7 out of 8 apps offer you to test them even before you purchase anything – so if you want to get deeper we suggest you download the apps you are interested in and give them a go with a test race yourself. 
Perhaps you should also consider other timing methods for your race. Here is a helpful general guide and video on which races are suited for app timing versus chip timing.