Active vs RunSignUp – Which Race EMS Should You Choose?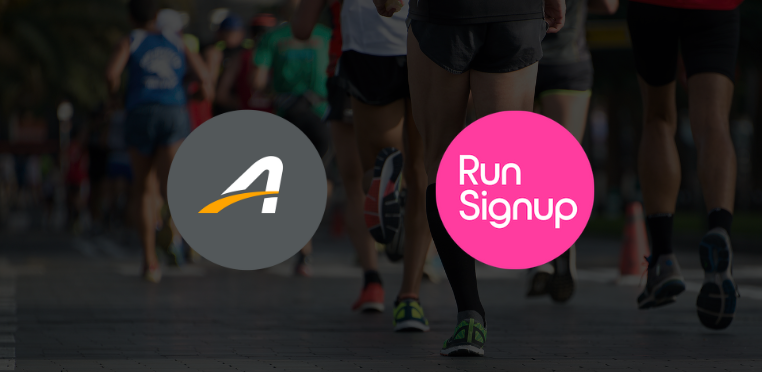 Are you trying to figure out which race event management system to buy and want to compare both RunSignUp and Active as potential candidates? Then you have come to the right place! In this article, we compare ActiveWorks Endurance Event Management System with RunSignUp EMS to help you choose the platform that will work best for you and your race. 
Note: we also provide an EMS for races here at RaceID (feel free to explore it), but our main goal here is to guide you on your buyer's journey and help you find the best solution for your race. Therefore, we are making this article as unbiased as we can while comparing the two systems by looking at features, cost, system interface for organizers, user experience for participants and customer support. From working with hundreds of race organizers and also being a team of endurance athletes and ex-organizers ourselves, we know what is important in a registration tool and hope to guide you to the right choice. 
Below you will find a thorough comparison of RunSignUp and Active, broken down into admin system, user-friendliness, pricing, features, customer support and the participant experience. 
In case you want even more options, check out these articles that list all the main registration tools in the US, and in Europe. 
About Active
Active.com is one of the largest global players when it comes to endurance race management, and its platform for organizers is called ActiveWorks Endurance. They offer a full-service registration and timing solution for organizers while also providing various apps and tools for participants to find races. Active also offers possibilities to manage other events like galas, conferences and camps on their platform. 
About RunSignUp
RunSignUp is an American registration platform and race EMS that primarily operates in the United States, although they have a few international races as well on the platform. They currently have the largest market share when it comes to race registration and are a popular choice for many races in different sports, despite the name that indicates a focus on running races. 
Features Comparison
Both Active and RunSignUp are large and established registration and EMS tools. Therefore, they both offer the entire suite of basic tools like online payments, intricate registration forms, start lists and more. 
Main Features Active:

Fully stacked registration tool with custom questions, gift cards, series registration and more 

Choose between different currencies to process payments in

Brand your race page with logos and more

Pricing tools for Early Birds and more 

Dashboards and data for registrations and participants, storage of participant data, reports

Sell merchandise in the registration

and separately: intricate features for stock management and more, including a POS app. 

Volunteer management 

Fundraising features

App for race day;

Active OnSite

App for race day:

Active Experienc

e – for participants, staff and organizers

Self-service portal for participants 

Email participants: create personalized campaigns 

Referral program

Race listing on active.com (8.1 million unique visitors every month)

Integrations via open software with 3rd parties such as various timing solutions, plus own IPICO timing hardware  

Systems for club, facility and membership management through separate software 
Full list of features Active: https://www.activenetwork.com/activeworks-endurance/features 
Main Features RunSignUp: 
Fully stacked registration tool with custom questions, logic questions and more, adapted per sport 

Brand your race page with logos and more

Customizable race website for your organization 

Pricing tools for Early Birds and more 

Dashboards and data for registrations and participants, storage of participant data, reports

Sell merchandise in the registration 

Volunteer management 

Fundraising (through GiveSignUp)

Photo platform

App for race day; RaceDay CheckIn App

Timing App for a lightweight timing solution 
Built-in bib management tool 
Built-in corral management tool 

App for race day:

RaceJoy

(certified chip-timers can connect) 

Self-service portal for participants 

Email participants: create personalized campaigns 

Referral program

Race listing in the RunSignUp calendar

Integrations with 3rd parties such as various timing solutions  

Features for clubs and membership management 
Features RunSignUp: https://info.runsignup.com/products/registration/ 
When comparing features head to head, it is hard to pick a winner between RunSignUp and Active. They are both extremely robust and intricate systems that offer all the things you can ever imagine needing as a race organization when it comes to the administration of your race. RunSignup seems to have slightly stronger fundraising through their brand GiveSignUp, as they offer various ways to donate, including team, peer-to-peer and gamified fundraising features. A few more features that stick out for RunSignUp are their bib management tool, race photo platform and the possibility to use the tool for building your own race website. 
Active on the other hand, has a very large reach in their calendar for participants, allowing you to get exposure to many potential athletes. Also, Active is operating in more countries than RunSignup and has a slightly more international focus on its platform, offering a multitude of currency and language options. Another unique feature that Active offers is their Point-of-Purchase app, which you can use to sell merchandise etc. on race day. Active also offers an advanced self-service portal where participants can log in and manage their registrations, which saves you time and effort in providing support. 
Price Comparison
Active Standard Pricing: $0.99 + 2.9% + 'transaction fees' for each registration (=$0.99 + 5.9% approx)
RunSignUp: $1 + 6% per registration (for all registration fees up to $249.99) 
RunSignUp gets cheaper if your registration fee is $250 or over, see the pricing chart below: 
In the RunSignUp pricing, card and payment processing fees are included. For Active, this is not included and those transaction charges are not specified. From our knowledge, when someone pays with a credit card, those fees are usually 2.5-3% of the transaction value. Hence, to compare total pricing, this comparison gives you a more realistic picture of what you would pay per transaction: 
Active: $0.99 + 5.9% (assuming 3% transaction fee)
RunSignUp: $1 + 6%
Let's apply this to a race with 500 participants and a $50 registration fee, this is the total cost: 
Active fees: $1970 ($3.94 per participant)
RunSignUp fees: $2000 ($4 per participant)
Even before this comparison, you can see that the pricing for RunSignUp and Active are almost identical, with Active being slightly cheaper. Remember though, if you have a large race with an expensive entry fee, RunSignUp will come out as the cheaper option for you as you can take advantage of the reduced percentage charge. 
Interface And Ease Of Use Comparison 
In terms of usability, we tested the both tools by creating an account and logging in as an organizer. It took us a number of attempts to get into the Active system which was slightly disturbing. When inside, you are greeted and guided to create your first event. The user interface is simple and straightforward, although slightly overwhelming with a view of all the available settings that you have to fill out to get to the next step. 
All in all, it is a robust tool and we did not encounter any further difficulties.
Here is an example of the Active Admin tool for organizers: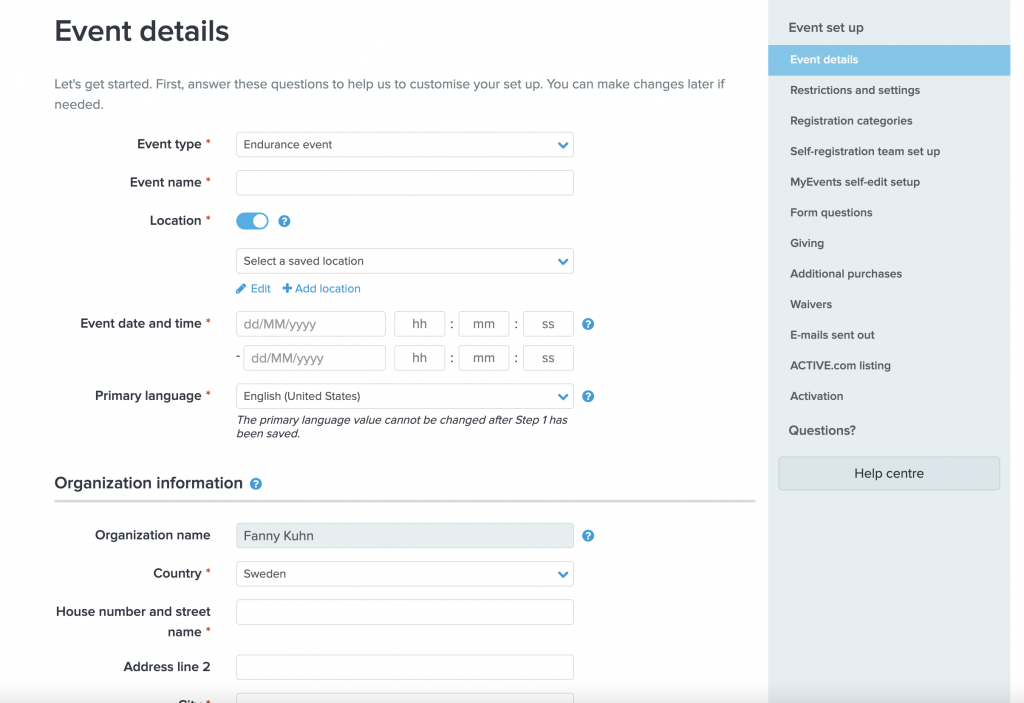 Additionally, comparing RunSignUp to Active when it comes to the administration interface and ease of use, we have to say that RunSignUp wins. It was extremely easy to log in as a new user, and you are guided through the steps of setting up your account and your first race very smoothly. The interface is pleasant to work with and all in all, we really liked the setup and system.
Here is an example of the RunSignUp admin tool for organizers: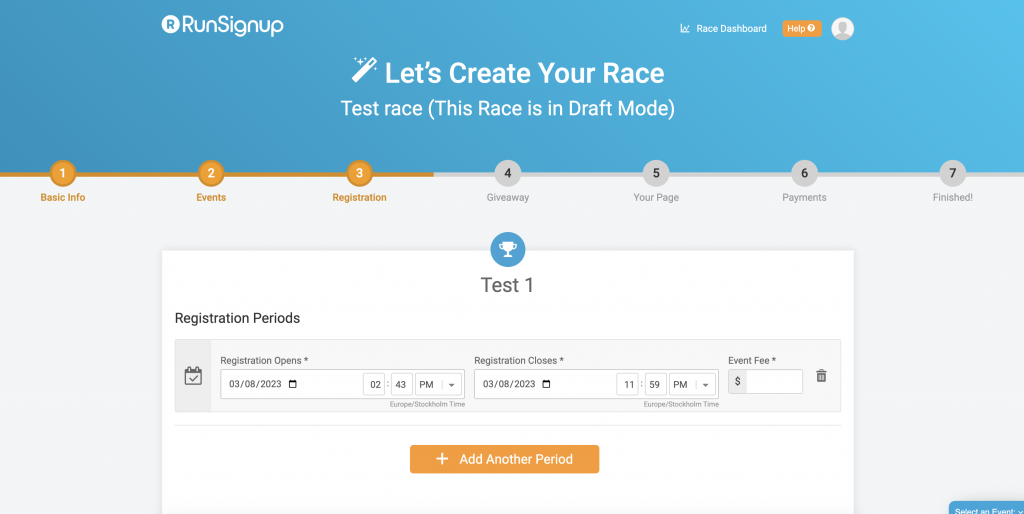 Customer Support
Both RunSignUp and Active are large companies and their products are designed as self-service tools. Hence, you take care of creating an account yourself, follow the steps and get started without having to talk to a salesperson or support member. If you do need support or help, both companies offer an excellent support library with articles and guides that you can search through. 
However, if you are looking for a tool with a more personal touch and would like to have an account manager available to call personally, this is not readily available for either of these two registration providers (unless you are a very large race and are treated as a special customer). 
Active has a general support line available Monday to Friday and you can also chat with the support team if you have technical troubles: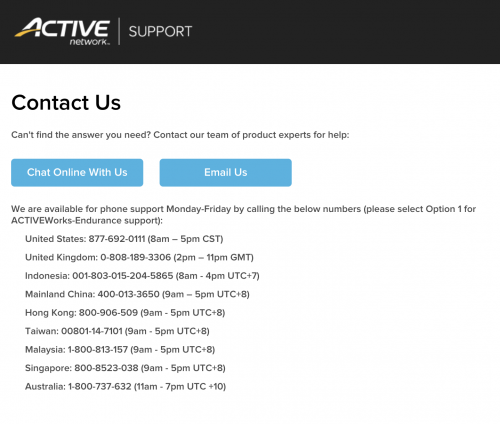 For RunSignUp, we could not find any general contact number or chat for support on the website or their support knowledge base. You can book a sales call on the website, so it could probably be possible to get connected to a dedicated support person once you become a customer. 
Participant Experience
Both RunSignUp and Active offer sturdy, mobile-friendly and easily manageable registration forms for participants. They are both reliable systems with secure payment portals, so your participants will be sure to enjoy a smooth registration experience no matter which system you choose. However, let's dig down into the details to see which system actually offers your racers a superior experience. 
Let's first take a look at the actual desktop and mobile registration forms. Below you see examples for Active: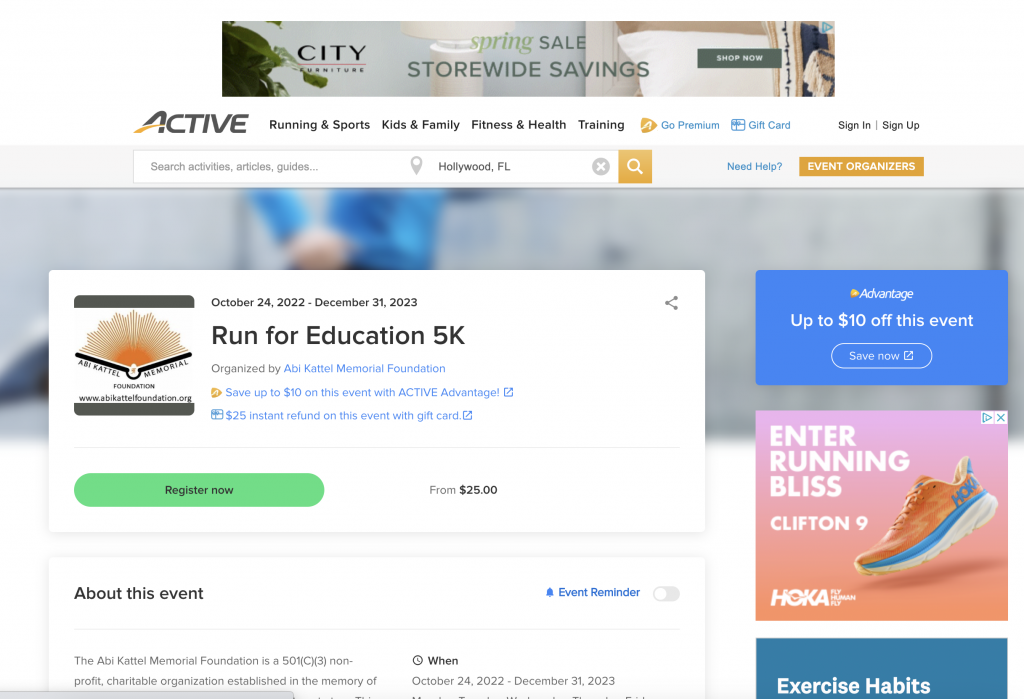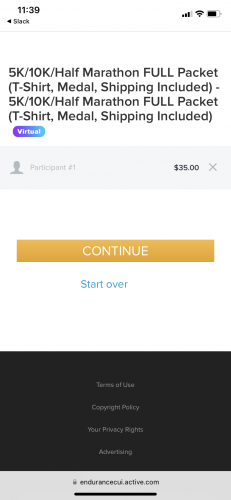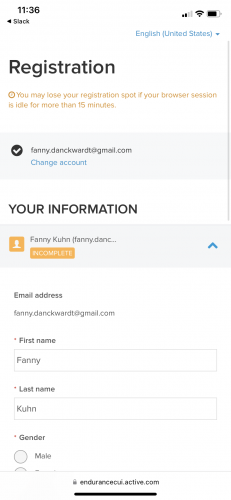 See examples of a RunSignUp registration below: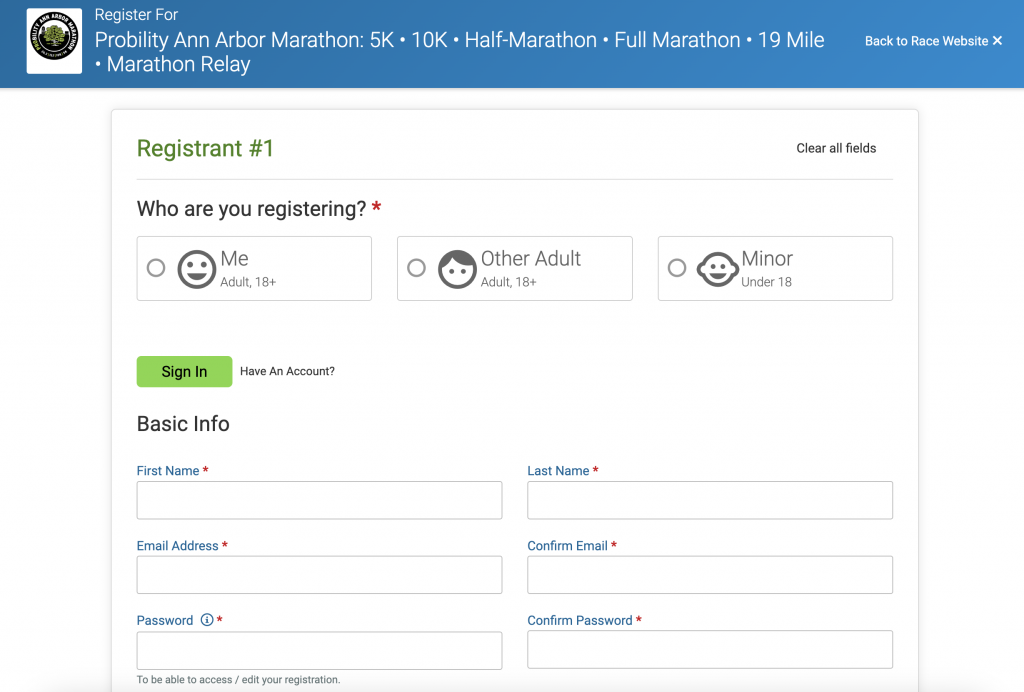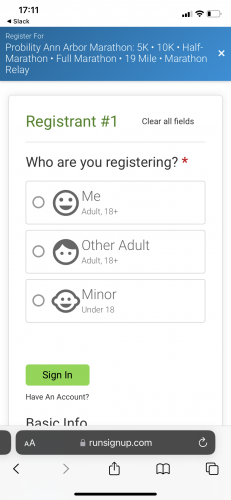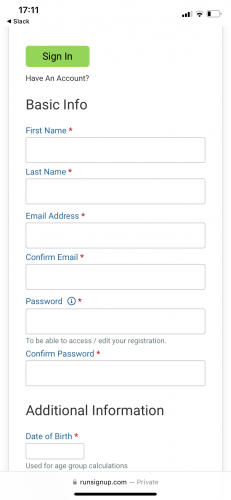 As a participant myself, I must say that the RunSignUp experience is slightly more enjoyable to go through and has a look that pleases my eye more when compared to Active. 
The actual race page of RunSignUp is excellent, as all information about each race is collected on its own little website with a clear menu at the top. As a participant, it is easy to find everything you are looking for: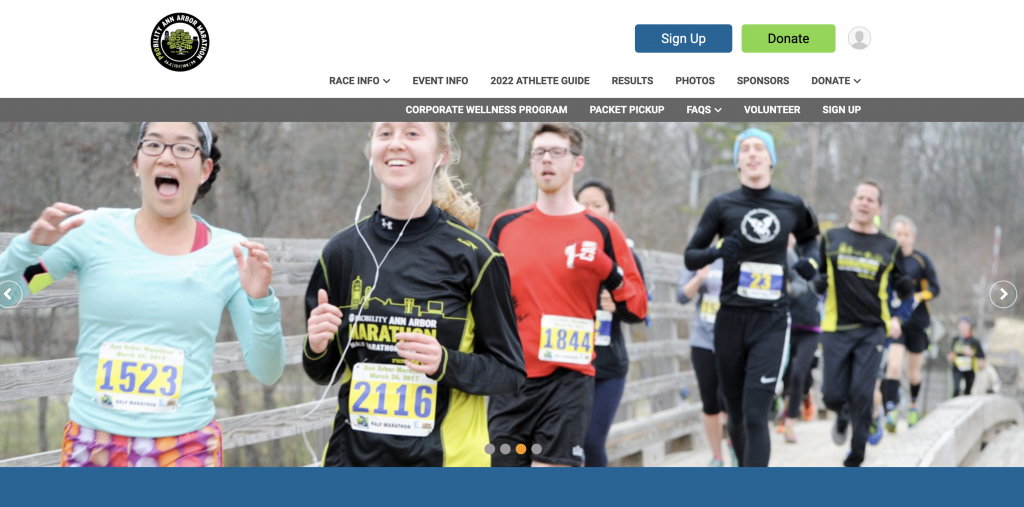 If we compare the actual race page at Active, it seems very cluttered and favors advertising over clarity: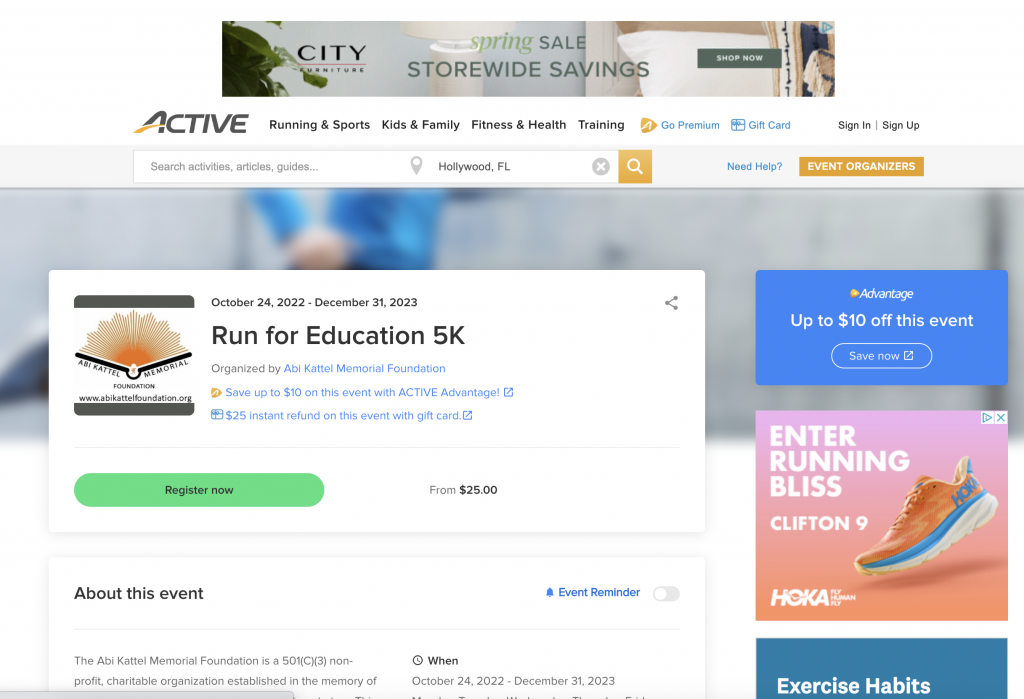 Also, when comparing the calendars of the two providers, the Active space is quite heavy on the advertising, which in my opinion disturbs the race browsing experience slightly: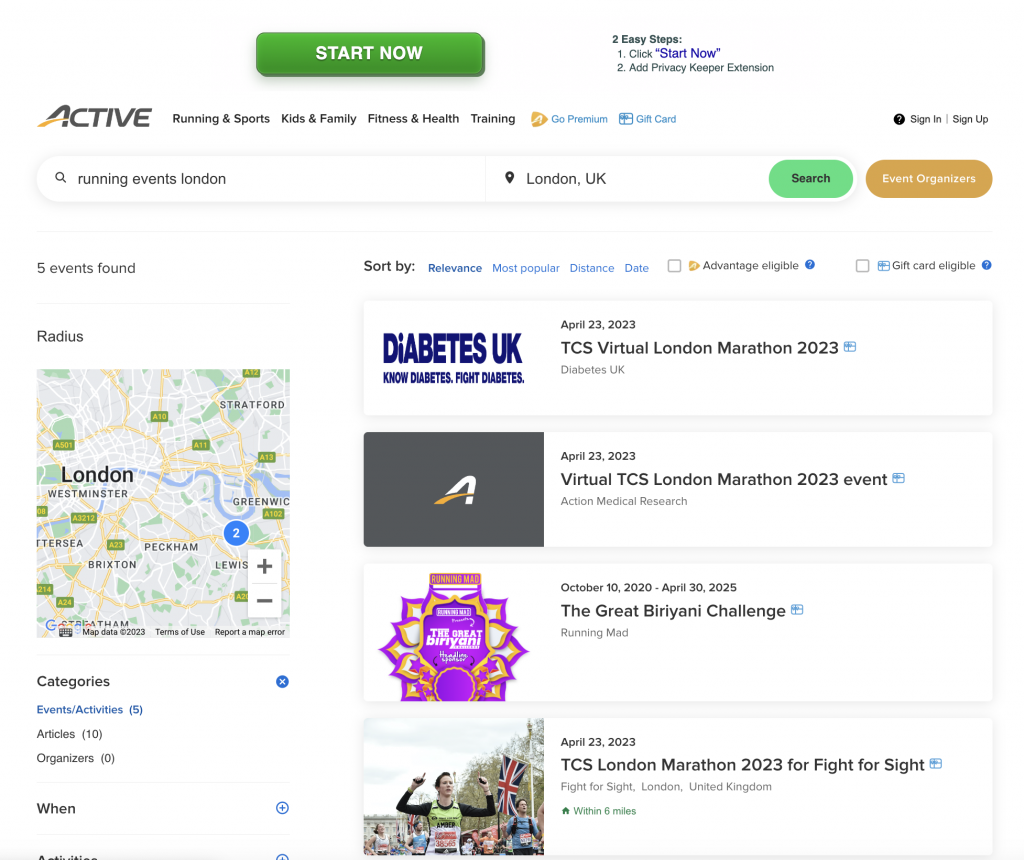 The calendar at RunSignUp is much clearer and straightforward: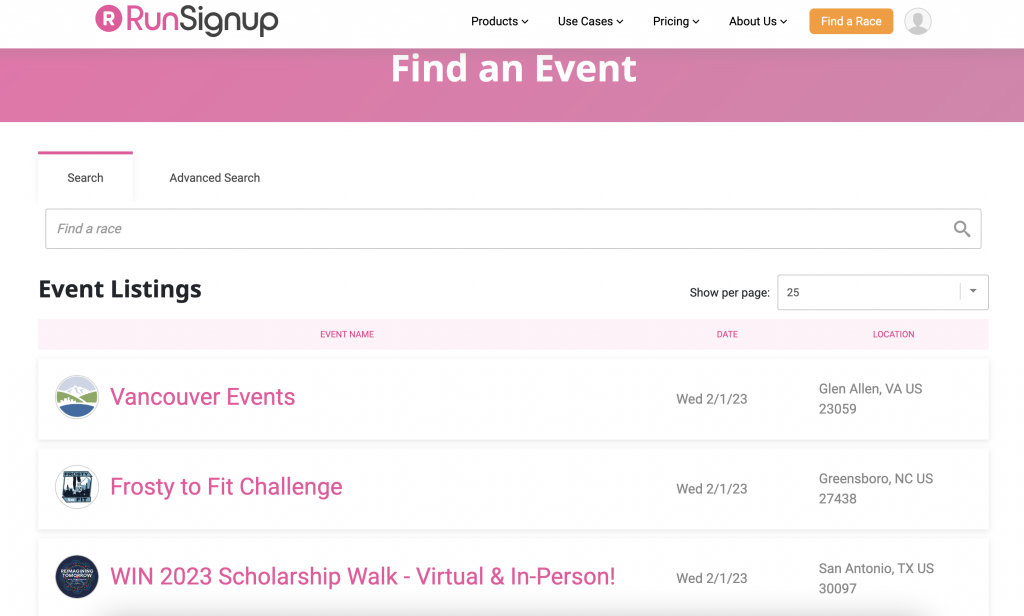 Looking at additional features for participants, both companies offer a race day app for participants to use (but for the purpose of this article, no in-depth analysis has been done on these apps). 
When we take into account all parts and look at the comparison images above, we think RunSignUp wins in the participant experience – mainly because they have a superior design without cluttering each page with advertising. 
Conclusion: Should You Choose RunSignUp or Active? 
We hope the comparison of features, price and user experience has helped you decide if Active or RunSignUp is better for you. 
To summarize, Active can be a good choice if you are a large international race and are looking for a wide reach and opportunities to be seen by more participants. For races with a registration fee of under 250, Active will also be slightly cheaper for you in the end (although, we are only talking about a small amount as the pricing is very similar). To be honest, both Active and RunSignup are both on the high end when it comes to Race Management Systems. (If you are looking for a cheaper tool, browse our review and listing of all tools in the US or Europe.) 
RunSignUp wins when it comes to aesthetics and participant experience. If this is something you prioritize, RunSignUp should be the given choice for you. Also, if you are a race based in the United States, RunSignUp has a very established reputation and a wide reach – so it would definitely be a good choice if you are based in America. Furthermore, you can have a reduced price if you have an expensive entry fee, as RunSignUp lowers the commission to 4% instead of 6% if your race entry fee is $1000 or higher. 
Ultimately, every race is different and you should take into account which parts of a race EMS you think are most important, and make your decision based on that. 
We wish you the best of luck with your race plans, and don't hesitate to get in touch if you need any help or want to try out RaceID for your race!
Example photo courtesy to Active platform and Runsignup platform.