Ordering Medals for Your Race
One key aspect of any race are the medals! What do you need to think about when ordering yours?
Medals or no medals? There's an ongoing discussion in the organizer community about whether to offer medals or not. On the one hand, they are important as they represent the achievement participants have accomplished having finished the race and become a memory of the race that they will (hopefully) keep for life. It is also a great way to brand your race.
On the other hand, the shift in mindset towards a more sustainable and eco-friendly approach to organizing events begs the question whether medals are necessary. Some races today order from a local supplier using wood to make the medals. But we're getting ahead of ourselves now! Whichever route you choose for your race – medals or no medals is up to you.
In this article, we break down three essential steps you need to take from your initial idea of a medal for your race, to deciding on a supplier and actively making the order. Consider the questions we ask here, and follow these steps when deciding on and ordering your medals. Let's get into it!
Step 1. Decide on your design. How do you want the medal to look and feel?
Think about how you would want the medal to look and feel. It is quite common for race medals to include the name of the race, the logo of the race, and the date of the event
As an organizer, you can often send in design proposals for free, usually by sending them a vector file of your design. A vector file usually ends with .EPS, .AI or .PDF. and can be edited, reduced or enlarged, which is helpful to the supplier. Either after or before sending it in depending on your needs, you will have a consultation or email communication with the supplier.
Sometimes you can collaborate with your city. For example, the Gothenburg Marathon in Sweden has collaborated with the local art school in the last few years to create their medal.
In 2023, the Gothenburg marathon medal was created by the jewelry artist Carolina Claesson from HDK-Valand, Academy of Art and Design.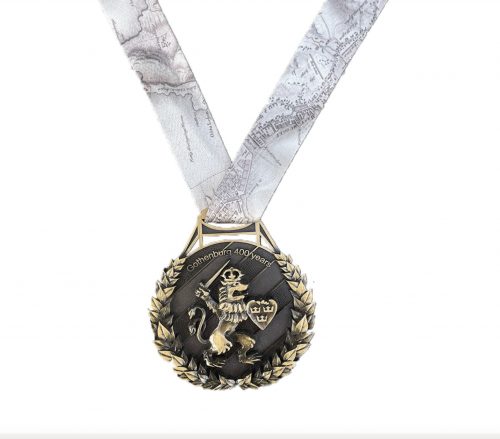 Step 2. Decide on the amount of medals. How many medals do you need to order?
Usually, a company that produces custom made medals will require that you order a set amount. Many companies would expect you to order at least 100 pieces but you can always contact them if you want less medals than that. The upside is that the more you order, the less the cost is per medal. So you get a discount when you order in bulk!
How much will it cost?
The cost of your medals will depend on the size, details, and total amount. For example, a medal can cost as little as 1 euro when ordered in bulk, all the way up to 10 euros depending on the material and cost to make. Looking for more sustainable options? A medal made of wood will cost around 3 euros per medal. Check out how cool these wooden medals look from Raw Cuts Studio.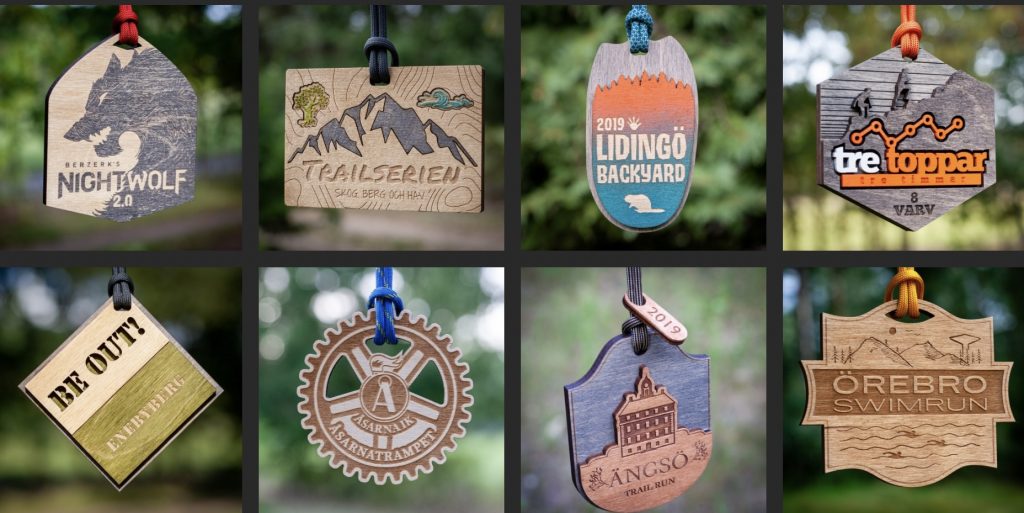 Compare the different options and make sure you get a medal that will make your participants feel proud to get once they get through the finish line.
Step 3. Decide on your supplier and make the order
The next step is to decide on your supplier. This means you need to research and reach out to suppliers who can provide you with your medals. You will probably not just order medals but also merchandise as it can pay off to order from the same supplier. However, this is not always the case. You should get a few different quotes to compare the cost. You can also order some samples to see what your medal will look and feel like.
Once you have come to a decision, it is time to make an order. Do this in plenty of time as shipping can be delayed for various reasons. You need to make sure you get your order in good time, and that you are happy with it. Delivery can take up to two months or more so try also to make sure to have enough time in case you need to change your order in some way.
Conclusion
To conclude this article, keep in mind the importance of a good design that suits your race. Make sure to research suppliers, and order your medals in plenty of time. The most important thing is that your participants receive quality items that reflect how you want your event day to be remembered, and the medal they get at the finish line is definitely one that is worth your effort.
Best of luck with your medals!