Which Is the Most Popular Triathlon Distance?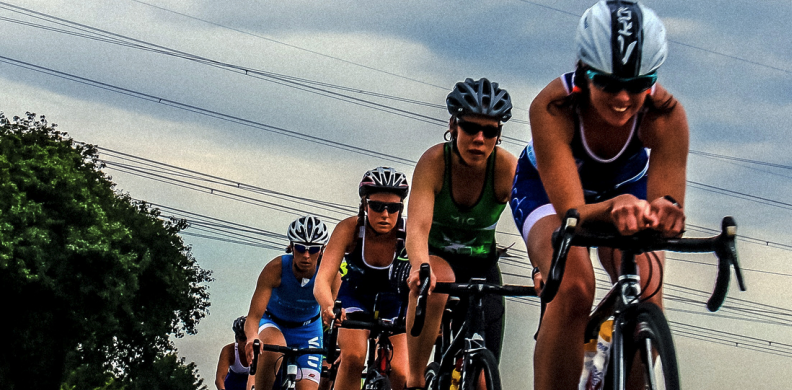 The Triathlete profile 2021: find out what distances triathletes like the most, which destinations are most popular and what triathlon wetsuits that most people buy. 
Download the Triathlon Insights Report (free) by filling out the form below – a survey to our Triathlon community answering the question "What do triathletes want?":



It's been a year with what seems like the longest transition time ever in the Triathlon world, where both racers and organizers have been forced to take a few more rest days than we might have wanted. Now finally, the world is starting to open up for us endurance race lovers and many have already gotten a taste of the starting-line adrenaline again. For those of us that haven't yet, it is high time to decide what races to register for, what new triathlon equipment to buy and start the triathlon training full on again. 
To help the triathlon community get going after the pandemic, we did a survey of our triathletes on the RaceID platform to find out the true post-pandemic triathlon profile. Which distances do triathletes prefer? Which countries do they want to travel to for a race experience? Which wetsuits and triathlon suits do they buy? These questions and more will enlighten you for a season full of swimming, running and biking like never before. 
The most popular triathlon destinations 2021
With an all-over emphasis on the travel company, the experience around the race and opportunities to not only do a spectacular course on race day, triathletes chose destinations that offer them more. Today, it is not only about that fast course and your personal best – Triathletes today also want to sightsee some nature or see a world city when they go on a race trip. In the survey, we also saw that almost 70% of the respondents are willing to travel abroad this year, indicating that the fear of isolation is greater than potential health risks. Anyhow, with vaccines readily spread in Europe and beyond, and event organizers adapting their ways to include thorough health measures, we should not hesitate to live our lives normally. 
When asked to list their preferred destinations, Scandinavia topped the list with over 70% indicating it as a bucket list Triathlon destination (perhaps the challenging Norseman race is a strong driver here). Close runner-ups for top-triathlon countries were Spain, Italy and Switzerland. Further, France, Germany, the United KIngdom, Portugal, Ireland, Greece, the United States and Belgium complete the top 10. See the whole list and percentage distributions below: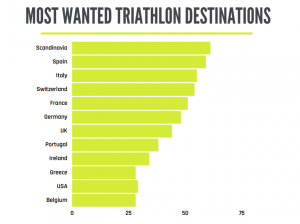 Which triathlon wetsuit brands are most used? 
We asked the questions "Which triathlon wetsuit do you use?" as well as "Which triathlon race suit do you use" in an open question for triathletes to indicate their preferred brands. With almost 400 respondents we can distill some interesting findings. 
As you can see, the variety of brands mentioned for race suits was significantly greater, indicating a diverse brand market. Nearly half the amount of brands were mentioned for the wetsuits, with 35 brands splitting the market share. For suits, Trimtex tops the list with a 14% market share, followed by HUUB and 2xu. For wetsuits, Orca, HUUB and Zone3 were the most popular brands.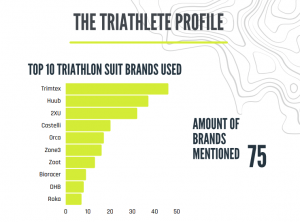 A breakdown of the most common triathlon distances 
Triathlon can be a very different sport if you compare a sprint triathlon where the world record time is just over 50 minutes, compared to the ironman distance where most people spend an entire day on the course. We were curious to see which distances were the most popular ones in our audience. 
It resulted to be the most brutal of them all: the infamous Ironman (or also known as long distance) Triathlon. The standard Ironman distance consists of a 2.4-mile swim (3.9 km), a 112-mile bike ride (180.2 km) and finally a marathon run (26.2 miles or 42.2 km). 80% of our respondents said they had competed in an Ironman Distance. See below the breakdown also for Half, Sprint and Olympic triathlon: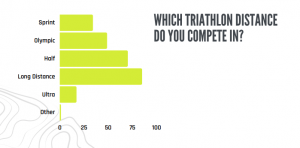 How much money do triathletes spend on equipment?
You have perhaps heard the rumors about triathlon being one of the most expensive sports on the earth, and seeing MAMILS (acronym for Middle Aged Men In Lycra) flashing 100 000 € bikes with extra tired and carbon fibre frames… we already know the bikes are expensive, but you need other equipment as well. We asked how much Triathletes spent on equipment yearly except the bike, and their median answer was 201-500 €. As much as 27% also stated that they spend more than 1000€ per year. 
When it comes to registration fees, we know that those numbers can add up as well. According to the survey, most triathletes spend 300 to 500 € per race. Doing 3-4 races per year, those numbers add up. 
Why do people do triathlons?  
As an endurance athlete myself, I often get this question and also think about it at some point in every race. It is expensive, you need to train as much as a full time job and you have to exert your forces to the maximum for entire days if you do the long distance races. So, why then, do we do it?
We asked open-ended questions to find out the driving forces behind this seemingly illogical drive, and found out that two main reasons keep triathletes reaching for the glory of crossing that finish line is the personal challenge and the adventure or experience around the whole race journey. 
As you can see in the word cloud, company and experience stand out. We also saw that most triathletes travel to races either with their family or with at least one friend: only 16% of the triathletes travel by themselves. The following were the main driving forces behind doing triathlon: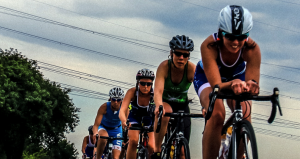 Conclusion
All in all, this survey gave us some interesting insights on the preferences of triathletes. It helps us understand how to create amazing events and for us at RaceID, to support our clients the best we can in their quest to make unforgettable races happen all across the world. The survey was conducted on the RaceID Triathlon community and was sent to international participants that took part in at least one triathlon race. The number of total respondents were 336 triathletes. 
If you are a race organizer, feel free to download a detailed breakdown of this report and survey.