23 Race Registration Tools In The US – List & Comparison (with Pricing)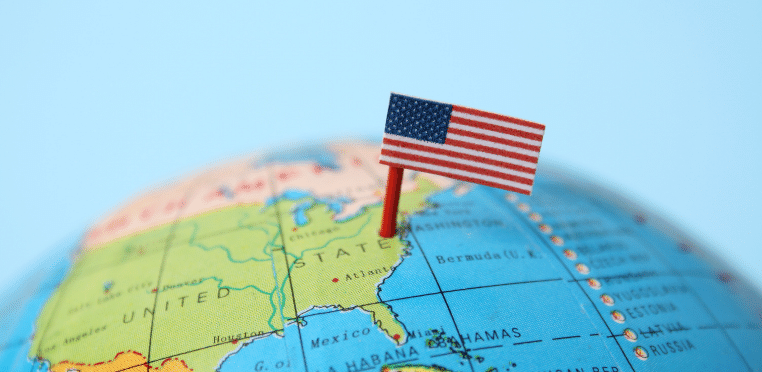 Do you host a race in the United States and are looking for a new registration tool? There are a multitude of national and local options out there to choose from… To help you out in the search, we put together this list and comparison chart of the race management tools available in the country. 
Although RaceID is also a comprehensive provider of registration and race management services, our overarching mission is to help you find the one that suits your race and your needs best, so you can give the participants of the world the best possible experience. 
Please note that this research was conducted by creating test accounts where applicable, analyzing each system and its features as well as going through information on each vendor's website. Therefore, there may be the occasional mistake or missing piece of information. For providers where account creation was not possible, detailed product information is sometimes not freely available. We have done our best to put together a comprehensive list and comparison chart and will update the material as new information becomes available. 
Missing any race registration provider below? Please let us know and we will update the chart and the article. 
In case you are looking for a tool in Europe, or perhaps an International provider, check out this Comparison of European Race Registration Providers. 
Download the US Race Registration Tools Comparison Chart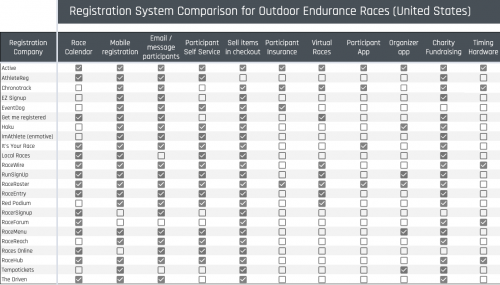 Provide your details in the form below and also choose if you want to receive the Organizer Newsletter. After you submit, check your inbox. You will have a direct download link to the Google Sheet document within a minute or two. Make a copy of the document, and you have your own version to add traits and make notes in as you choose your provider. 


Alphabetical List of Endurance Race Registration Tools in the United States
Active Network 
Website: https://www.activeendurance.com/home
Headquarters: Dallas, Texas
Active Endurance, Active.com or Active Network is probably the largest global player when it comes to endurance race management. They offer a comprehensive registration tool for organizers while also providing various apps and tools for participants to find races. Active also offers possibilities to manage other events like galas, conferences and camps. The feature list and power of this tool is impressive, but the ease of operating the tool and logging in is not optimal as we had to try several times before it worked. 
AthleteReg 
Website: https://www.athletereg.com/
Headquarters: Boulder, Colorado
Athletereg provides registration services and more for various sports events throughout the U.S. and Canada, including cycling, running, skiing, and triathlon. The service is specially adapted to each sport under the brand names Runreg, Bikered, Trireg & Skireg. AthleteReg is run and owned by the magazine and media company Outside. They offer event organizer insurance for 2.2% of your revenue to secure yourself for any Force Majeure or cancellation of the event. 
Chronotrack
Website:  https://chronotrack.com/
Headquarters: Indiana, USA
Chronotrack offers a comprehensive race management package, everything from registration to timing and results. They offer their own timing hardware connected to the same all-in-one system, pricing is available in packages upon request only. This is a good option if you are looking for a tool that offers both registration and timing all-in-one. 
EZ Signup
Website: https://www.ezsignup.com/signmeup
Headquarters: Woodbury, New York
Previously called SignMeUp, EZ Signup offers a full registration service for all types of events, not only races, including social events and conferences. You can also use this service for member management if you run a club or association with events. This service is a division of the company Jonas Software. 
EventDog 
Website: https://eventdog.com/pricing/
Headquarters: Austin, Texas
Eventdog is "your event's best friend" and helps you manage the administration of your event in one platform. In addition to the basic registration and admin panel features, you can also manage your volunteer force in this tool. Another neat feature is for you to set up referral programs and manage them. It is quite easy to log in and use the service, but they lack a few features such as an event calendar for extra visibility.
Get Me Registered
Wesite: https://secure.getmeregistered.com/
Headquarters: Bettendorf, Iowa
Contrary to the industry standard of providing a self-service tool, Get Me Registered sets up the event for you. Provide them with information as directed, and they will set up your event and give you access to the system. You can manage your event, volunteers and donations on this platform. For Get Me Registered, it is standard to pass on the fee to the participants unless you choose to opt out and pay it yourself. Get Me Registered is a good option if you don't feel like setting up the event yourself. 
Haku
Website:  https://hakusports.com/platform
Headquarters: Miami, Florida
Haku is a general event management service targeting all kinds of events, including races, conferences and company events. They offer a robust system for keeping track of your participants and pride themselves on offering exceptional support. You must request a quote or fill out a request form to get more information and pricing. They target mainly large events and offer customized solutions. 
IMAthlete (Enmotive) 
Website: https://go.enmotive.com/imathlete-online-race-registration-solutions
Headquarters: Santa Monica, California
ImATHLETE is an event registration service targeted at endurance sports events. You can set up and manage event registration as well as club memberships, donations and volunteers for your race. They also offer you a custom Event Cancellation Refund Program you can sign up and pay for as a security in case you need to cancel your event. You offset the service fee to your participants or choose to absorb it. They don't list pricing on their website, but provide an example of a $4 service fee for a $50 entry fee. 
It's Your Race 
Website: http://www.itsyourrace.com
Headquarters: St. Louis, Missouri
It's Your Race offers race organizers a comprehensive registration and race management tool. They also focus on optimizing the system to connect with race timers, so everything can run smoothly on race day. In addition, they have an app for participants where they can look up any race information as well as follow friends in races as well as the possibility to manage and distribute race photos. That is a quite unique feature compared to other tools. Their price point is in the mid to high range at  $1.75 + 6% per transaction. 
Local Races 
Website: https://localraces.com/
Headquarters: Joplin, Missouri
Through Race Dashboard, Local Races promotes a service for race organizers to take in registrations and manage races. They are also owners of the site localraces.com which helps athletes find races and challenges in their local area. Unique features in their tool include sponsorship management and calculating and estimating your race t-shirt order quantities. This tool is a good option for races that mainly have a local audience and want to be visible in a certain area. 
RaceWire 
Website: https://www.racewire.com/
Headquarters: Braintree, Massachusetts
RaceWire offers an all-inclusive tool for race organizers to manage events, including registration and timing. Extra features include free race photo distribution as well as bibs if you use RaceWire's own timing services. This option is ideal for races that are looking for a combined registration and timing provider. 
RunSignUp 
Website: https://runsignup.com/
Headquarters: Moorestown, New Jersey
RunSignUp is one of the largest and most prominent registration platforms in the US. They offer a comprehensive platform for race organizers with everything from registration processing and fundraising to a race day check-in app and virtual race tools for all types of endurance sports (not only running races). Despite being one of the largest providers in the US, they do not offer currency or language translations for races that want to display their race page in several languages. Although quite expensive, the list of features is impressive, so you will most likely not miss any detail for your race if using RunSignUp!
RaceRoster 
Website: https://raceroster.com/
Headquarters: Ontario, Canada
Canadian-based RaceRoster is currently the second largest provider of registration management in the US. They recently were purchased by the running shoe brand Asics. They offer a comprehensive race management tool including registration, race day apps, fundraising and timing integrations. They also integrate with salesforce, allowing you to create advanced marketing campaigns based on customer data. 
RaceEntry 
Website: https://www.raceentry.com/
Headquarters: Orem, Utah
RaceEntry offers a functional tool for race organizers and market themselves as having one of the lowest price points on the market at $1.25 + 4.7% per registration (although, we found cheaper options!). That includes registration forms, merchandise sales, fundraising and more. Although they offer responsive websites and mobile registration, the user-friendliness for participants could be improved. 
Red Podium 
Website: https://www.redpodium.com/
Headquarters: Sacramento, California
RedPodium is actually the overall cheapest solution on the market that we found in this analysis, with their 99 cents per registration plus card fees (which are usually around 3%). This company instead earns its revenue from upgrades inside the system. For example, to send emails to participants you need to upgrade to the communication center and pay 2 cents per email. The system is quite different from other tools in this list, and reminds us more about a website builder tool than a registration form tool. All in all, it has a modern look and is fairly easy to use. 
RacerSignup 
Website: http://www.racersignup.com/contact
Headquarters: Clearwater, Florida 
RacerSignup is based in Florida and offers a basic registration tool for a fair price (6% of registration fees). Features include volunteer management, custom forms, coupons and more. This tool is made for all types of running events but lacks features and the ideal setup for races in other sports. The registration and website is not responsive for mobile devices so it could be a problem for your participants to register smoothly on their phones. 
RaceForum 
Website: https://raceforum.com/
Headquarters: New York, NY
RaceForum is New York's popular race management software, and offers timing as well, together with their partner Split Second Racing. They use a pricing structure based on the price of your event, making it very expensive for cheaper races and very cheap for expensive events, compared to the general industry processing fees. Hence, if you have a high entry fee, RaceForum is a good option for you. 
RaceMenu 
Website: https://www.racemenu.com/#about
Headquarters: Boston, Massachusetts 
RaceMenu is a registration tool focused on local races in the Boston and New England area. In addition to a registration tool with basic features such as selling merchandise, accepting donations and making coupons they also offer a handy organizer race day app. 
RaceReach 
Website: https://racereach.com
Headquarters: Raleigh, North Carolina
RaceReach splits up its business into three branches: registration management, club management and registration for multisport events and tournaments. They have a flexible tool that suits most types of races, offering basic features you would expect in a race management system. 
Races Online
Website: https://racesonline.com/directors
Headquarters: Charlotte, North Carolina
Races Online offers free calendar listings and claims to offer a free registration tool for organizers as well. We were not able to find any pricing or processing fee information on their website. 
RaceHub 
Website: https://racehubhq.com/
Headquarters: Woodstock, Georgia
RaceHub offers a comprehensive registration tool for organizers, including neat photo sharing and tagging features. It is a one-stop shop for event organizers, as they offer a timing solution as well. A race calendar feature is available for participants to search for races. 
Tempotickets 
Website: https://www.tempotickets.com/
Headquarters: Woodbury, Minnesota
Tempotickets is a local provider of registration services for races and a ticketing system for conferences, music events and festivals. For race organizers, they also include a race day app and bib plus a simple check-in system based on barcodes. 
The Driven 
Website: https://thedriven.net/
Headquarters: Reno, Nevada
The Driven offers two different platforms, one for race management and registration and the other for club management. The race registration service features most common tools, including fundraising, selling extras in the checkout, coupon codes and more. 
We hope this helps you select a tool that suits you and your race. For any questions, don't hesitate to get in touch.
RaceID is not on this particular list as we are based in Europe, but feel free to check out our event management tool as well. We have an office in the US and support multi-currency transactions, including USD, and have several clients in the United States.