Top 10 Craziest Races Around the World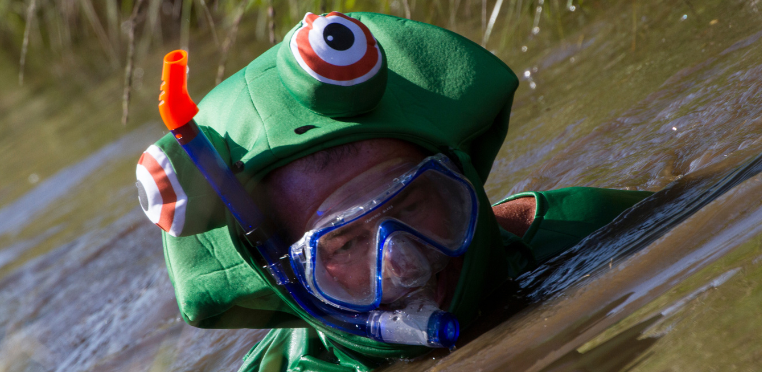 From running backwards to snorkelling through a bog, from being chased by zombies to carrying your wife. Here are the top ten of the craziest races in the world. Enjoyment, challenge and an element of risk are the common factors which are central components to all of these wonderful races.
Described as 'blood-curdling' and 'insane' and a course which is a mere 700 metres long. Throw in a 80% slope and you have a quite frankly lethal race. Tackled in a team of two, one climbs and one descends. Whether running down it or grafting a way up it, the slope is unbelievably gruelling. It demands bravery and strength from all taking part.
For Inov-8's Lee Procter this is a special race  'we love the innovative nature of this event and the opportunity to test our shoe's grip against such an iconic and formidable slope'.
 Near a small town in mid-Wales, lies the Waen Rhydd bog. Each year hundreds of participants flock from across the globe to swim two lengths of a trench in a bog. They must do so 'without using a recognisable swimming stroke' powered only by flippers. While some take it seriously, the emphasis is on fun with many participants in fancy dress.
 An event which is totally anarchic, with breaks and sprains every year. Participants chase a Double Gloucester cheese down a steep hill. The only safety is a set of burly rugby players catching participants as they hurtle down the slope.
Survivor, Dean Rees Thomas recalls 'you see the hill and it looks immense, an incredible 200 yards much steeper than pictures make out. No sooner had the race started I was on my arse followed swiftly by several somersaults then it was all over. The buzz was awesome but I'm not going back, the risk far outweighs the rewards!'.
 A ​​253.5 metre wife-carrying race along a sandy track which has three obstacles. But beware the underweight wife, wives must weigh more than 49kg, any underweight wives are given additional weight in form of a weighted bag. The organisers go onto say in the rules that  'all the participants must have fun'.
 Known locally as 'The Great Train Race', runners will are pitted against the Puffing Billy. a steam train over distances ranging from 2km to 25km. The train trundles along at 14kph (which is a 3 hour marathon pace), and participants have the agonising sight of the train going past them as legs fail.
A simple concept to understand, and created where some of the best ideas happen; a pint between friends in the pub. The horse traditionally wins this race although there have been a few notable wins by humans, it took 25 years for human, Hugh Lobb to beat the horse. An annual prize pot of £500 accrues until the horse is beaten
Made famous by Netflix, the Barkley Marathons deservedly has a cult like status, as participants attempt to complete 5 laps totalling 100 miles. Along with the unyielding and rough terrain, where the Barkley bites is the 16,500 metres of ascent. There is normally about one finisher a year, some years nobody finishes.
 Entering is unique to say the least and includes: an essay as to why you are suitable, a $1.60 fee, a car licence plate from your home area and occasional items of clothing which the organiser Lazarus Lake is short on. Purportedly all must be sent on a particular day, although nobody apart from successful entrants really know when that day is.
Retro running is another term for running backwards. The retro running scene is beginning to pop and is one of the fastest growing new disciplines. With distances ranging from 100m to a half marathon, there is something for everyone for reverse running participants at the Retro Running World Championship.  
Dubbed 'The Worlds Hardest Triathlon', an Ironman distance triathlon with freakish climbs of over 7000 metres. This race is so hard that the 2019 edition had a single finisher.
This is a wrecking ball of a race, turning the very fittest into a quivering mess. Competitor Stephen Hobday who ended up in an ambulance upon crossing the finish line recalls his trauma 'imagine starting what is arguably the hardest marathon completely and utterly broken, that's what everyone feels like on Triathlon X. It simply destroys you'.
 Described as an 'immersive 5km or 10km live action survival running experience', participants must evade Zombies as they complete the course. With three lives, represented as flags attached to a waist belt, runners must complete the obstacle course and arrive at the safe zone with at least one life remaining.
Have a crazy race we don't know about? Tell us about it! 
Cover Photo: Peter Barnet