World Champ Desirée Andersson's Top-5 Swimrun Races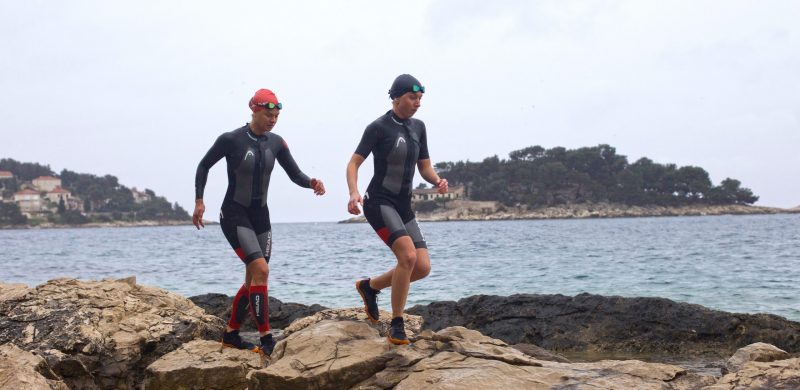 We spoke with Desirée Andersson, AKA the Queen of Swimrun, about her favorite Swimrun races and why they are so great. In case you didn't know, Desirée Andersson has a double ÖTLLÖ World Champion title, in 2019 with Fanny Kuhn in the women's class and most recently in the mixed class together with Victor Dahl. In 2021, she also broke the course- and World Record! She is an excellent swimmer schooled in Polisen Swim Club in Stockholm, a quick runner and most importantly for Swimrun; she knows the art of fast transitions. 
In case you even had a thought there's any cheating involved in her success, think twice. Desirée surely knows to follow the rules – when she is not in the pool, the ocean or on the mountain trails, she works as a lawyer for a court in Sweden. 
Keep reading to find out which Swimrun races are on Desirée's toplist!
1. Ångaloppet
Ångaloppet was my very first experience of Swimrun back in 2014, and therefore it has a special place in my heart. The race arena is very close to my family's summer place and my favorite archipelago spot in the country. The race has a great ambience, as it is a very family-oriented event. I also love that this race has so many transitions – up and down all the time, with many short swims, which makes it fast and exciting. 
2. ÖtillÖ Engadin
ÖTILLÖ Engadin I love because of the beautiful environment: cows and flowers on the mountain slopes, incredibly beautiful views that you actually have time to experience (in the slow uphills!) and really appreciate it during the race. It is also really cool that the water in the lakes is so clear and clean that you can drink it! Despite the incredible views and looking up towards the mountain tops, the race is also brutal. With over 2000 altitude meters to climb, and also starting from an already high altitude, it is a very challenging race.
3. ÖtillÖ Catalina
This US Swimrun organized by ÖTILLÖ in Catalina outside of Los Angeles, California, is one of the most unique ones I have raced. The colors of nature on this island are incredibly beautiful. I remember coming up on the ridge of the mountains, and seeing the stunning view and the sea on both sides – such a fantastic feeling and a strong memory. The swims around Catalina are also unique – it's so clear and I remember the orange fish we saw everywhere. The whole experience around the competition, and coming to a place I would never have seen otherwise, is just so worth the long trip from Sweden! 
4. Swimrun La Réunion
Swimrun La Réunion, is a race hosted on an Island in the Indian Ocean. It is a volcanic Island with rainforests and coral reefs. The Siwmrun is small, but incredibly beautiful – you run through beautiful beaches and the whole trip felt so exotic. There was wonderfully clear water to swim in, it was almost like doing a swimrun in an aquarium! For us nordics, it was a real challenge to stand the heat! It was definitely no wetsuit necessary with almost 30-degrees C in both the water and air!
5.
Swimrun
Costa Brava
Swimrun Costa Brava in Catalonia, Spain, was the first long (marathon distance) swimrun I did (2016). This place has a very beautiful rocky coastline, and the race is unique as you run from A to B along the coast. It is quite cool how they set up that race – they plan the start times for the half (which I also have done) and the sprint, so everyone ends up at the finish line in Platja D'Aro at the same time. So eventually you start seeing the teams from the other distances on the course! 
If you sign up to any of these races, keep an eye out (most likely in front of you) for Desirée! If you are looking for more inspiration, find upcoming Swimrun races at RaceID.com and in the RaceID App (now available on Android as well!).
Photo: Catarina Axelsson