RaceID Live Tracker – The New Way to Time and Track Your Race
Enhancing the Race Experience for Organizers, Spectators and Participants
With RaceID Live Tracker you can experience an outdoor event like never before and save yourself plenty of time, money and trouble as a race organizer. It is an easy way to time races and to track participants with GPS zones around your course – for yourself and spectators. 
Have you ever lost a racer on the course? Or struggled with getting spectators to stay around, complaining that they don't see anyone on the course for hours? The analog technology of outdoor events can indeed cause problems for race organizers. But the good thing is – those times are soon in the past. RaceID Tracker will take yours, your spectators' and your participants' race experience to a whole new, high-tech level . Combining GPS technology with social connectivity for everyone present on race day, we can offer a more fun, interactive and safe experience. Welcome to the future of racing.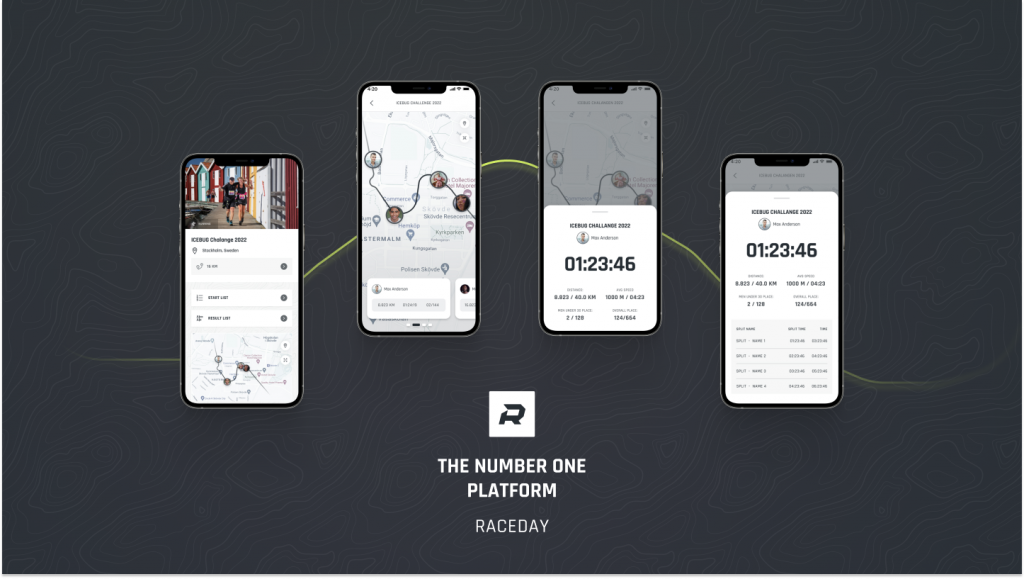 GPS Timing & Tracking for Organizers
With GPS technology advancing rapidly, mobile reception getting more and more reliable and wearables (smart watches) getting mainstream in the sport community, allow us to develop the use of GPS tracking on race day for timekeeping and tracking of your athletes on the course. 
It is simple: create a GPX map of your race route, upload it to your RaceID Event App Account, and place out coordinates on the route for where you want your timing checkpoints, start and finish. 
On race day, your participants need to have the RaceID app downloaded, and activated on a device they carry with them (this can be an apple watch or a smartphone). You start the race, and can follow each and every one of your participants on the course. You can see them pass your checkpoints, and view the leaders and their times as they progress through the race. Times are recorded like magic, without any volunteers clocking racers in the woods or placing heavy timing portals miles and miles across your course. Smooth, sustainable and safe.
Combine with other Timekeeping Sources
You can try out RaceID Live Tracker and Timer with your current chip timing provider. In the RaceID app, you will be able to see and record times for racers at all checkpoints – it doesn't matter if they are derived from a GPS zone, a chip timing portal or a manual checkpoint conducted with the RaceID Timing App. All timing sources can be collected in one system. 
Improve your on-course Safety
If racers encounter an emergency, they can rapidly alert you by clicking on the race emergency button. You get a notification, and can quickly locate their exact location on the course to send emergency personnel to the spot. Nearby racers will also be alerted to the person in distress to aid them and prevent graver injuries or accidents. 
Communicate with your Participants
With every racer connected to your race digitally, you can use the RaceID Event App to send notifications to your racers before, during and after the race. Remind them about the race briefing. Send a weather update. 
Promote a sponsor display. Send a congrats, and invitation to join next year. Your creativity is the limit.
GPS Tracking for Virtual Races
You can also use the RaceID Tracker to organize virtual races the same way. Just upload your GPX file if you have a set course, or decide the length if you are doing a general course, and start the race! Your participants can then run the race course with the app and their results get recorded. Or they can partake in a global virtual race and run at the same time as competitors across the world.
RaceID Tracker - for Spectators
Proper GPS tracking will make endurance racing fun for spectators. If you have ever watched an outdoor event live you know it is a hassle to find the right spot, wait for hours, and all this only to see your loved ones rush by for about 2 seconds! 
With RaceID Tracker, spectators can download the RaceID app, select the racers they want to follow, and watch their every move along the course. See split times, see average pace, position and the final result. 
Whether on the course or cozy on the sofa on another continent, endurance race support and following for family and friends will never be the same.
RaceID Tracker - for Participants
GPS Timing on race day also offers participants a new experience and a unique way of staying connected to supporters and the race organization as well as getting information about their performance.
As a racer, you will be able to stay on top of information before the race. Never feel in doubt about when you need to be ready and what you need to do before arriving at the starting line.
During the race, if you want, you can stay informed about your position, your pace and your peers' performance by just checking your watch or smartphone!
After the race, get your results instantly and analyze your performance in the RaceID App. Follow your new friends and competitors, and keep track of their future results. See and collect all your race data and your results in one place.
Curious to try RaceID Live Tracker for your race? Request to become one of our test races, before this feature is rolled out to the general public this summer!