Sthlm Open Water Cup & RaceID – Efficient App Timing
Sthlm Open Water Cup & RaceID – Efficient App Timing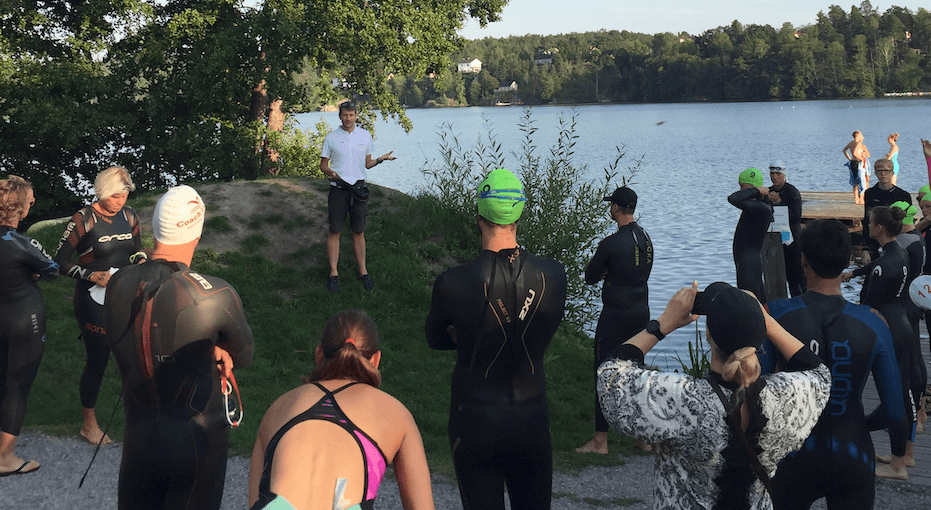 "My favorite feature with the RaceID Timing app is the "unknown racer" button. Sometimes, it can be hard to see the number on the cap, and then I just click on this button, and can pair the finish time with the right racer afterwards."
Robin, Sthlm Open Water Cup Timing Assistant. 
About Stockholm Open Water Cup
In case you want to take advantage of the best season for Swimming in Scandinavia with some friendly competition, Stockholm Open Water Cup is something for you. The cup, organized by nationally recognized swimming coach Fredrik Lundin, is a set of races held in lakes around the capital of Sweden from May to August. You can participate in one race, or all six, and compete for the cup winner title at the end of the final race in August. Each race has around 100 participants and you can compete in non-wetsuit, wetsuit, competition and amateur classes. 
Before he discovered RaceID, Fredrik had some challenges both with how to manage the event efficiently while juggling all his other coaching projects, as well as to get the word out about his events to new swimmers.
Professional Timekeeping and live results without rfid chips
As each race has relatively few competitors, Fredrik thought chip or rfid timing was too expensive, but he still wanted to provide a fully professional timekeeping and results service to his cup swimmers. 
Luckily, he found his way to RaceID and now uses the one-stop system to handle registrations and payments to the event, and connects straight to his data on race day and uses the RaceID Timing Application to record times for his racers. 
Fredrik usually hires one or two volunteers from his swim club to help out with the timing app, so he can focus on greeting his swimmers and everything else around the event. 
When it's time to go, Fredrik holds a quick race briefing, and make sure everyone is checked in and have got their numbered swim cap on (corresponding to their start number in the RaceID start list). 
In time for the starting shot, swimmers line up in the water between 2 buoys that Fredrik set up earlier. The starting shot is fired, and his timing assistant starts the app clock. 
If it's a lap race, the timing assistant is ready with their iPad at the first buoy, checks the numbers on the swim caps, and clicks on each participant in the app to record their times. Now, all parents and friends that came to cheer, can follow along in the RaceID app to see how their swimmers are progressing through the race. 
"My favorite feature with the RaceID Timing app is the "unknown racer" button. Sometimes, it can be hard to see the number on the cap, and then I just click on this button, and can pair the finish time with the right racer afterwards."

Robin, Sthlm Open Water Cup Timing Assistant. 
At the finish line, the timing assistant is ready to record the finish times the same way. To make it easy to see who comes first, they set up the finish at a dock, so the swimmers must touch the dock edge to officially finish the race. The final results update instantly in the online result list at RaceID.
Visibility to Swimmers across the country
"I get free marketing because my races are visible to all participants at RaceID.com. It is evidently a good platform to be seen on as it has brought me more swimmers to the Stockholm Open Water Cup., " states Fredrik. 
Fredrik has worked with RaceID for several years, and has seen his races benefit and grow (except for during the corona pandemic, where he had to put a cap on participants and also pivoted to offer a Virtual Version of the cup).
For a smaller race or cup, RaceID is a useful tool to help get the race discovered and get initial traction.
Get in touch or read more about how we can help your race grow.